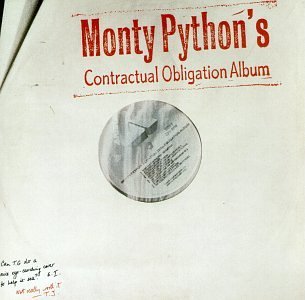 We're Only in it for the Funny
Do artists even make these albums anymore? At least years ago, when I was more tuned into the major record label status of big artists, there were sure signs that an artist was nearing the end of a long-term contract. A hastily compiled album of lesser material, often packaged on the cheap, would be rushed to market with little fanfare. The Contractual Obligation Album (COA) might be loaded with cover songs or padded out with live tracks. I believe an entire live album was a pretty cheap way to fulfill a contract as well. The artist wouldn't do much press for the album, or what interviews were granted centered on how excited they were for their next album.
I'm not sure if Greatest Hits and Best of collections could count toward an artist's fulfilling a contractual obligation, but I believe to this day they still serve as the old label's last shot at making a few bucks off the departing artist. Does anyone know the ins and outs of these deals? Too bad Links Linkerson keeps himself in the basement and can't send us some Billboard links to fill in the details.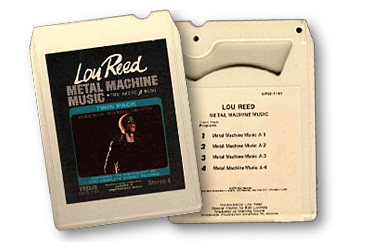 The Way Contractual Obligation Albums Were Meant to Sound!
Some contractual obligation albums were outright "F-U" affairs: F-U to the old label, F-U to the buyers, F-U to the coming Greatest Hits/Best of repackaging options. Lou Reed's Metal Machine Music is reported to have been one of those F-U COAs, maybe the most brazen of them all.
I wonder what artist has cranked out the most COAs? Do you have a favorite COA, one that works despite – or because of – its tossed-off nature?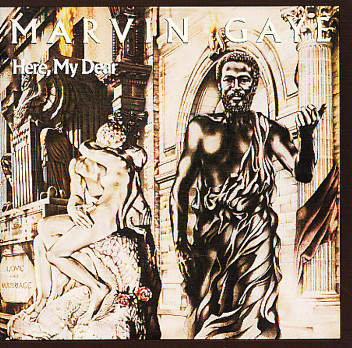 I Only Made it for the Honey
Marvin Gaye produced a COA that fulfilled two obligations with one album. Technically it was a double album. His Here, My Dear album not only fulfilled a contractual obligation to Motown, but Marvin parlayed it into serving as his alimony payment for his first wife, Anna Gordy. I wonder how Papa Berry felt about his daughter's settlement. As much as I love Marvin Gaye, I've never gotten around to buying or even hearing this album. The cover art is so bad I can't help but judge the album.
You know, Led Zeppelin first toured as The New Yardbirds to fulfill a contractual obligation, but a COA was not part of the deal.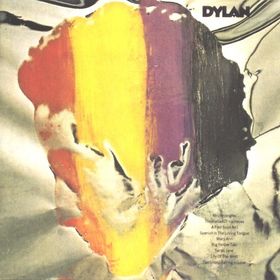 Bland Slam!
There's that whole stretch of Bob Dylan albums following Nashville Skyline that I never have the urge to spin: Self Portrait, New Morning, and the soundtrack for Pat Garrett & Billy the Kid. They're his last three Columbia albums, and they play like a "COA trilogy." Columbia capped off the COA trilogy by compiling outtakes from two of the three previous turds and releasing it as Dylan. Has anyone ever listened to this album? I haven't even seen a copy in a dollar bin for 25 years.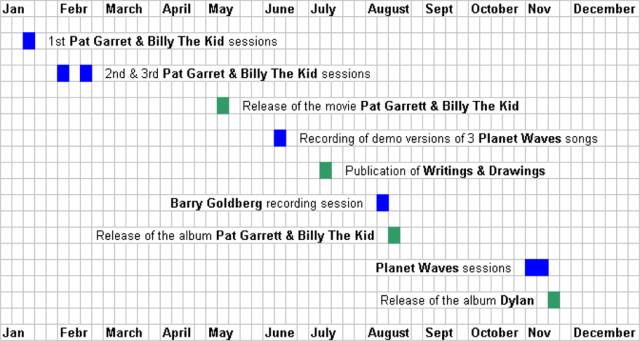 Man, someone felt it necessary to work up this chart…
Dylan's COA trilogy was followed by what I'm sure was great fanfare, for his one intentionally recorded and released studio album with The Band, Planet Waves, on his new label, Asylum. I'm sure the label was thrilled. The results, however, were not exactly thrilling. A couple of good songs, but recorded with about as much color as the cover sketch. I'll leave it to someone else to examine whether there's typically a noticeable bounce to New Label Albums.
WFMU's Beware of the Blog did a good piece on Van Morrison's COA to satisfy the bubblegum contract he couldn't wait to get out of with Bang Records. They piece includes mp3s of all 31 songs he cranked out!