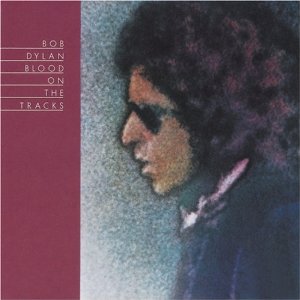 People seem to love Bob Dylan's Blood on the Tracks. I bet you do! I like it. It's a very good album, but I never feel the love for it that seemingly all Dylan fans and critics do. In part, perhaps, this may be because the album seems a little slick by Dylan standards. The drum parts on "Tangled Up in Blue," for instance, include uncharacteristic hi-hat flourishes that wouldn't sound out of place on an album one of those LA Soft-Rock Mafia members, involving Russ Kunkel, or a painstaking overdub on a Fleetwood Mac album. The acoustic guitars sound really tight, too, maybe a little too tight. Not Ovation Roundback tight, but close. I shouldn't hold a little professionalism against Dylan at this point in his career, at this point in recording history, but I do.
Part of the reason it bugs me is because so many people love this album, they talk about how great it sounds on their hi-fi, how great it sounds through their super-duper noise-canceling headphones. I don't deny that Blood on the Tracks goes down easy, and that's also part of my problem. This is one Dylan album where even non-fans resist saying stuff like, "I like some of his songs, but I don't like the way he sings!" Dylan pulls off a true powerhouse performance on songs like "Simple Twist of Fate" and "Idiot Wind." I get chills just thinking about some of his vocal performances on that album, but I can't help but feeling ashamed for Dylan whenever I consider the critical acclaim and public adoration of this album.
Blood on the Tracks is the reference point of any one of Dylan's "best since…" albums, his Exile on Main Street, the demarcation line between "great" Dylan, whose 6- or 7-year run of questionable albums leading up to Blood is conveniently overlooked in many definitions of his peak years, and the Dylan over whose subsequent worth rock lovers will forever quarrel. Perhaps all long-running artists are doomed to live the last two thirds of their lives shooting for nothing more than their "best since…" album, but I find it especially sad in Dylan's case. He was above the "best since…" construction, the way Marlon Brando was above accepting an Academy Award directly.
I really dislike "Lily, Rosemary, and the Jack of Hearts," not necessarily because it's a horrible, tuneless song but because it reminds me of Don McLean's "American Pie." I hate "American Pie," and not necessarily because that song is a horrible, tuneless song but rather because it reeks of ass kissing. "American Pie" is a remarkable achievement in many ways, it's like McLean's Rocky moment, his one chance to grab the championship belt. He gives the song everything he's got to give, summarizing a cultural history of America in the rock 'n roll age over the course of 48 stanzas and one of the greatest sing-along choruses in the history of rock. I give the man credit, but that song annoys me. This is a contributing factor toward why I don't love Blood on the Tracks and it gets closer to why I feel ashamed for Dylan whenever I hear people talk about how much they love the album.
This takes us to a chapter Dylan left out of Chronicles, Vol. 1. Or maybe I'm jumping the gun on Vol. 2. What makes me feel ashamed for Dylan is my sense that he finally caved into the pressure to get back in the saddle and live up to the responsibility of being Dylan. In fact, that should have been the album's title, Being Dylan. I don't doubt that the man was motivated by a jolt of inspiration, but it sounds like he entered the studio after first having gotten himself in shape. I picture Dylan in a gray sweatsuit, working his way through a series of rock chestnuts with a pick-up band in a barn in Woodstock. Manager Albert Grossman is heard shouting admonitions, like "Coke constricts vocal chords!" and "Pull yourself the hell out of that low register!" and "Draw out the end of your dismissive couplets!" At the peak of his musical workout montage he's hitting the high notes in the chorus of Del Shannon's "Runaway." 
"They wanna know where you've been, Bob," cajoles Grossman in one scene. "They wanna know about what's going down with Sara. They want to see you bleed, Bobby." Dylan quietly takes in his manager's advice. "I'll give them blood," the singer finally says, as he gets up and grabs his guitar, "but I'm gonna give that woman a piece of my mind."
As a joyous, paternal tear forms in Grossman's eye a relatively buff, polka-dotted shirt and shades–wearing Bobby D enters the studio, where he just as abruptly abandons his initial attempts at Being Dylan, disappointed that his backing musicians, with visions of Al Kooper, Mike Bloomfield, and Robbie Robertson dancing in their heads, see this as an opportunity to carve out their own legacies. He hires some Minneapolis studio cats who are fully committed to helping Dylan sound the way he was meant to sound, and a "best since…" reference point is established. Fans and critics alike celebrate the return of their Dylan. They can't get enough of the vicarious thrills of hearing their hero bemoan another busted relationship.
"I haven't felt this righteously pissed at my 'ex-' since Blonde on Blonde," says a fan in San Bernadino.
"This album makes me wish I had an 'ex-'," his friend adds. 
"This album's almost too painful to listen to," says another on Long Island, "but it sounds amazing on my Bang & Olufson!"
"He means it, man," a snot-nosed English kid tells a reporter.
Listeners can make out every word. Bob's letting us in like he's never let us in before. Sure he'll spend the rest of his days denying that he writes "confessional songs," but we know better. He's confessing to all the things we wish we had it in us to confess.
"These new songs are so direct, so piercing" a critic writes, "that he could perform them in clown's greasepaint and not obscure their meaning."
Marlon, Bob Dylan dreams one night, shortly after the album's release, why don't you come up and accept your award? Leave Pochohantas on the reservation this time.