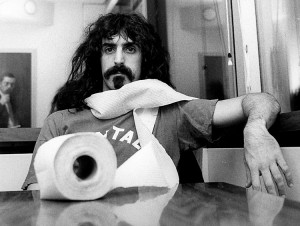 While searching for something completely unrelated I stumbled across this Frank Zappa performance of "Dumb All Over," (sorry, the YouTube poster doesn't seem to allow embedding) a song I'd not previously known existed. As usual, I can appreciate Zappa's intelligence and wit, but the song raised a question that gets at the root of why I can never embrace Zappa's records: Did Frank Zappa actually like music?
By "music," I mean the musical elements at the root of songs: melody, rhythm, and harmony. At the 4:20 mark he sits down, shuts up, and fires off an excellent guitar solo. Clearly there was a side to Zappa that at least liked the music that could be made on a guitar. The rest of this song, however, displays no appreciation for music itself. He seemed to have a penchant for hiring shit-hot musicians and then punishing them by making them play stuff they could have been playing had they accepted offers to join Loverboy or a second-rate rock-fusion band. Was this Zappa's twisted way of punishing dedicated musicians?
I look forward to other examples of Zappa's direct connection with music, points in his songs that indicate that the music itself was more than a vehicle for his stand-up comedy act.
Here's another video featuring sophomoric humor and dumb rock music.