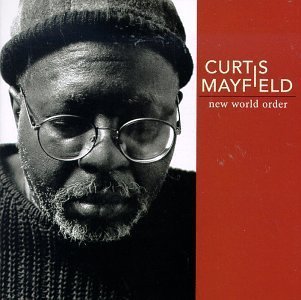 (Gulp)
I'll keep this simple: What songs make you cry? I don't mean a full-on blubber; that shit is hard for dudes. I'll settle for tunes that fairly consistently make you feel like you might, any second now, bust out into a good sobfest.
I don't mind sharing: I had the iTunes on shuffle today and heard "Back To Living Again", from Curtis Mayfield's final album, New World Order. Man, did I come close to losing my manly Cry Composure!
Yeah, I admit that I, Mr. Backstory-Is-Bullshit Man, was nearly felled by the notion that Curtis recorded this number while flat on his back, having to record each line individually because he was paralyzed from the neck down. I mean, just… well, God — just listen to those words. What a capstone to a 35-year career of (to steal from Mayfield fanboy Paul Weller) "upfullness." The dude had been confined to a bed, paralyzed for 7 years. A year later, he'd have a leg amputated due to complications from diabetes, and a year after that, he'd be dead. And in the middle of all that, "Back To Living Again" is what Curtis had to say.
Shit!
But I gotta tell you, the thing that gets me every time is Aretha Franklin's performance. She adored Curtis Mayfield, and I swear you can hear it in her brief cameo at the end there. Shit!
RIP, Curtis Mayfield.
(Gulp)
So anyway — what songs make you cry?
HVB