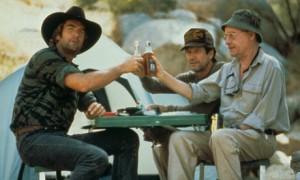 When I think of all the musicians whose contributions to culture I don't like in the slightest despite my suspicion that they're probably good eggs if I got to know them, Huey Lewis tops the list. I don't like a single song by his in the slightest. It's not that I dislike many of of his songs to the degree that I dislike the songs of, say Journey or Billy Joel. I just don't like his music—not a thing about it, not even the fact that he works in a meat-and-potatoes stylistic range that is a healthy part of my diet. Not even the fact that Elvis Costello used members of Lewis' pub rock band, Clover, on My Aim Is True helps me appreciate the career of Huey Lewis. Perhaps John Mellencamp is the only artist working in my basic food groups who comes close to boring me as much.
Music aside, there's one thing I appreciate about the public works of Huey Lewis, one thing that he's done that actually takes more talent than simply being himself, or a close facsimile thereof: taking a piss in Robert Altman's Short Cuts. Lewis showed promise as an actor. Wasn't he in a movie with Gwyneth Paltrow about 10 years ago? I was tempted to see it for his acting, but it looked like he was going to sing in it, so I didn't bother.
Finally, there's a second thing I can enjoy about Huey Lewis, although admittedly this is more a result of his good egg tendency: his opinions on pre-recorded music at sporting events. Read about them here (thanks to Tvox for passing this along). Despite getting some kicks over players' walk-up music, I think Lewis is right. Let the sounds of the game itself, including the fans, reign. Give the real organ player some! Suit up the marching bands! Let's hear it for dead air!