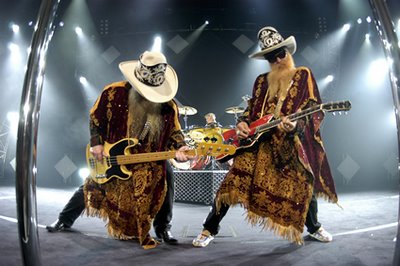 Please!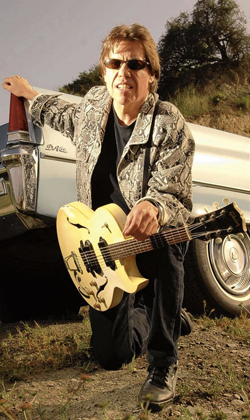 Puh-leez.
Sorry to hijack this thread, Mod, but come on: this "best of the Zeez versus best of Thorogood" concept was dead on arrival. Why? Because the Reverend Billy G and company are so far superior to General George and his band of frat-boy blooz abyoozers that it just ain't fair to throw them both in the steel cage at the same time. Now, a Handicap Match — *that* might be a little more balanced. So here's what I propose: I've gathered a choice selection of tracks — six, as you requested originally — from across ZZ Top's career, and they're making their way to the ring. But note: these are tracks few may have heard; they're some of the deepest of ZZ's Deep Traxx. No hits, but, as always, huge chunks of funk and tons of Texas 'tude. I feel certain they'll still mop up the ring with the *best* your lame-ass, stogie-chompin', Mid-Atlantic has-been can offer. Bring it on!
In chronological order, then, here are the members of ZZ Top's six-man tag team of undeniably rockin' obscurities:
Salt Lick — from ZZ Top's first single. Just wanted to prove that this band *always* had what it takes to stomp a mud-hole in Thorogood's ass.
Move Me On Down the Line — from ZZ Top's Texas nationalist masterpiece "Tres Hombres." Smokin'!
Have You Heard — also from "Tres Hombres," but this time a deep, blue testament to the band's abiding love for red-state, colorblind, gospel preacherman music.
Moving forward a year or two, from "Fandango!", a live track that documents just what a monster rock machine these guys were live: Thunderbird. The actual performance, while fun, is sloppy as all hell, but that entrance — POW, right between the eyes!
From the underappreciated "Tejas" album, Arrested for Driving While Blind. I'm assuming you're bringing one of those jive-ass Thorogood drinkin' songs to the ring. Be my guest, SUCKER — here's mine.
Lastly, to prove I'm not stacking the deck, here's a track from the first of the processed 80s albums, "Eliminator." If I could Only Flag Her Down proves that you can't hide good music behind crappy production, no matter how hard you try.
So there you go, Mod. I urge you to simply hand over the belt, right now.
Accompanied to the ring by the greatest boogie rock band of all time,
HVB