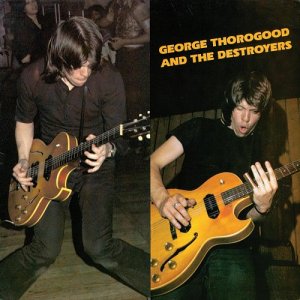 Doin' the job Fogerty was too proud to do
It's going to be extremely difficult for anyone under the age of 43* to properly feel the stinging blows that Team Destroyer will deliver in support of George Thorogood's Steel Cage Match against ZZ Top and Team Top, but we'll do our best. Truth be told, it's going to be only slightly less difficult for the older heads of Rock Town Hall to see the dim stars that will result from our sure-footed jabs, but victory will be all the sweeter.
Before we get into the music, let's start with the original Look of a young George Thorogood. Take a good look at that cover shot that kicks off this thread. Can you handle what you see?!?!
Now, those of you nerds who remember, circa 1977, high-fiving over the back cover shot of Talking Heads in their little plaid shirts; those of you who discovered Jonathan Richman in his simple, little shirts; those of who were sickened by what rock had become following the age of KISS and other overblown, tarted up arena rockers, look inside your hearts and give Thorogood some respect for his initial choice of simple stage threads. Compare it with that of UK roots rockers like Dave "Saint of Roots Covers" Edmunds, and tell me Thorogood's not working the same angle, that is Rock of The People.
Now listen to this song while I continue. Listen to it!
George Thorogood, "Move It On Over"
*As of December 4, 2007.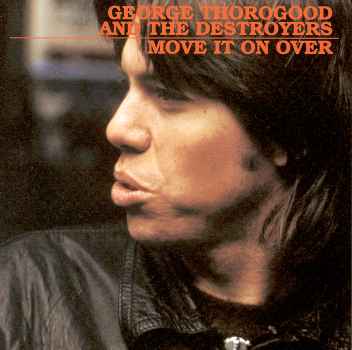 Flying in the face of lost values
I'm sure some of you remember hearing Thorogood tracks like this for the first time – hearing them on big, commercial rock stations, no less, sandwiched between Journey, Styx, and Foreigner crap – and even all the Zeppelin and Who songs you'd been growing sick of from overplay. Thorogood's first records were on a little independent folk label called Rounder. This was long before labels touted their "indie" status while leaning on their long-since-established network of indie PR, indie radio, indie press, and indie coke deals with said members of indie radio and indie press. How the hell Rounder got George Thorogood on commercial FM radio (at least in the Philadelphia area – how 'bout your hometown circa 1977?) is a mystery to me. Maybe coke and whores were part of the package, but a song's still got to have some appeal to people no matter how often it's shoved down their throat. Thorogood worked it. The songs and arrangements were as simple and stripped down as the man's Look. Remember, we're talking a few years before Thorogood could fancy himself an over-the-hill authentic bluesman at a modern-day Chicago blues festival, wearking snakeskin boots, silk jackets, and bad headwear. Listen to this track while Team Destroyer continues its patient assault on reason. Listen to it!
George Thorogood, "Ride on Josephine"
OK, I meant to buy "Who Do You Love" from iTunes, but this will have to do. The Bo Diddley beat is cool. In the history of rock, I believe only U2 failed to make it work. Is there anything fancy going on here? No. Any hot-shit slide guitar playing that you or I couldn't work up with a few weeks' practice? Probably not. Anything original? Only in the sense that unlike the 42,000 bar bands circa 1977, Thorogood and his Delaware Destroyers actually displayed the good taste to establish the beat, stick with it, drive it into the ground, and resist from showing off their chops. Now some of you older heads, I'm pretty sure, despite one of the revolutionary lessons of punk rock, held onto your worship of the false idol of chops. That's cool, I like my share of chops, but circa 1977 chops had to cool the hell off! I don't mean that bands had to forget how to play well. I can't stand a punk rock band that is incapable of keeping any beat as much as I can't stand a '70s boogie band that is incapable of resisting the temptation to stray from the boogie. What I mean is, musicians owed it to the revitalization of real rock 'n roll to repent for their double-bass drum fills, their tweedly-tweedly soloing, their wall of keyboards.
Thorogood was sheep to the slaughter for the sins of rock 'n roll, and for that he should be praised, not dismissed with scorn and contempt. As much as any goofy "roots rock" and "alt.country" artist who would follow and decade later and beyond would be praised within reason – I'm thinking of the likes of The Reverend Horton Heat – Thorogood should be tolerated and enjoyed for what he was. If I'm out in a bar and an early Thorogood track comes on, it sits in the background just so, allowing me a steady beat to tap along with and a pleasing, vintage guitar tone to savor while people talk loudly all around me and I and my impaired hearing have trouble following any particular conversation. Bring your laptop to a crowded bar and play the following song in the background. See if you don't get what I mean.
George Thorogood, "Madison Blues"
Did you know that producer Terry Manning worked with both ZZ Top and the Delaware Destroyer himself? I didn't, and I think it's important that Team Top and Team Destroyer recognize some common ground. What's better than a fierce battle between two opponents who respect each other? While we're building some between-round respect, I think a pause for browsing this site will be helpful.
Let's get back to business, shall we? Try this track on for size.
George Thorogood, "You Gotta Move"
Yet another well-worn, simple cover. The man knew his limitations and played perfectly within them. While John Fogerty was spending the '70s being pissed off about who-exactly-knows-what (see Fogerty Syndrome) and the brief, early '70s rock 'n roll revival had long since faded, Thorogood was taking on the burden of keeping rock's simple values alive and kicking. He even came up with one wholly memorable, long staple. Even you young whippersnappers probably know what I'm referring to when I type "Now you funny too."
George Thorogood, "One Bourbon, One Scotch, One Beer"
Beside the obvious sins of dressing like a washed-up, second-rate blues legend at a modern-day Chicago blues festival and hamming up his music in a way that betrayed his original supporters ("Judas!" one fan was heard to shout out the first time he played "Bad to the Bone" in concert), where Thorogood really started losing the respect of rock's true believers and underground flag wavers can be seen in the following image.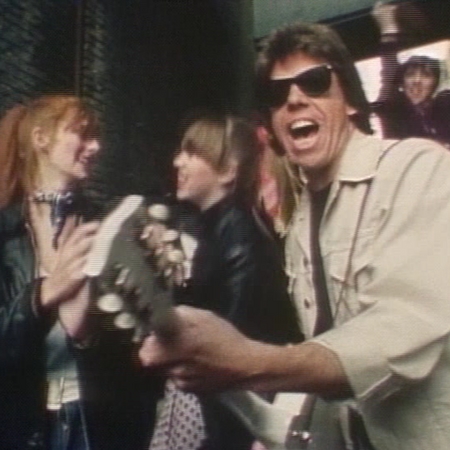 He's not bad, he's just genetically mean
Once Thorogood cut his hair, which didn't have much bounce or curl, he was left with a boring, layered, center-part 'do. Like the kind of haircut you'd get, circa 1983, before going on a job interview. Coupled with the increasingly formal choices in stage wear and the occasional donning of Risky Business-style Ray-Bans, Thorogood's huge, John Elway-like overbite and stubby, slightly upturned nose came to the fore. Suddenly, we had trouble seeing the man as a humble Roots Rock Preservationist. Instead, he was Whitey, milkin' the Black Man of his rightful, overdue glories. Where George Thorogood was raking in the big bucks and the adulation of pretty young secretaries – where George Thorogood was shilling for lousy American beer – real second-rate bluesmen like Buddy Guy were still trying to make their way up to the front of the line. The titans of the '50s blues scene were dropping, and while their trusted second fiddles waited to take their spot, George Thorogood and Stevie Ray Vaughn took the main stage instead. At least Stevie Ray had the whole hard-living thing to give him credibility. But George Thorogood??? He was the embodiment of the White Man's Overbite. "I hates white folks!", white, educated hipsters were heard to mumble.
Yeah, I said it too. But now, when I'm trying not to pay too much attention to all that I find unsatisfying in 99% of roots rock revivalism and 85% of '70s boogie jams, I treasure the simplicity and sincerity – and consistent mediocrity – of early George Thorogood. I'll leave you with his band's signature tune. If need be, we can get into the skeletons of our highly respected opponents another time.
George Thorogood, "Delaware Slide"