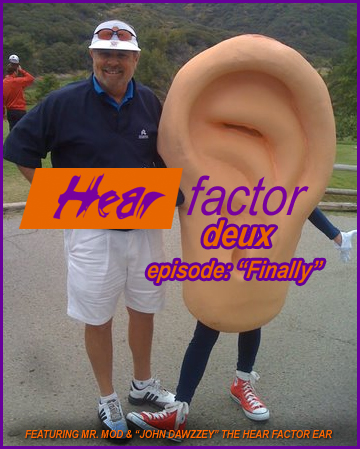 The time has come for me to face the ultimate horror in our long-delayed, long-suspended second season of Hear Factor!
A worshipper of the Holy Trinity of Rock (ie, Prince, ELO, and ZZ Top) who will go unidentified submitted a collection for my consumption and gut responses consisting of 10 deep cutz by Prince. The thought of listening to this collection so disturbed me that I failed in my responsibilities of moderating a second, successful season of this nearly revolutionary music blog torture listening exercise. I did listen to it – once – but I nearly drove off the road and subsequently procrastinated on listening to it again…until today. I'm off the road and safely seated now, so fear not!
There's no point in holding out any longer. Tomorrow we will delight in reviewing the early demos of our fellow Townspeople. That stuff can't be worse than what I'm about to hear. My real-time thoughts, feeling, and impressions follow the jump…

"Get on the Boat"
This one starts out with some polished horns, along the lines of Earth, Wind & Fire, aka "Black Chicago." So far I'd say it's not horrible, but man is it slick! Bet this would sound fantastic in a stereo store. A little timbale break doesn't do anything for me. Oh, a call to "Maceo!" Now isn't that cute? Here's another timbale break. The "let's come together/big tent" lyrics are wearing on me. Big time. Four minutes of this song have passed and there's still "room for a hundred more." Sounds like the story of my attempts at promoting shows. I'm ready for this boat to sink, but instead we get one more Maceo solo. I believe there are some sophisticated jazz chords being thrown beneath this final solo. Tasty, I suppose.
"Good Love"
This is the song that first caused me to steer off the road. The instruments and voices are so processed. Is that Prince singing or a 12-year-old girl? Ugh, he just went into a growling, soul man voice that sounded phonier than the digital backing track. I'm getting a serious "white side of Stevie Wonder" vibe from this collection. You know when Stevie tries extra hard to be "soulful" and he comes off sounding embarrassingly lightweight? I wish I could put my finger on some of the Stevie Wonder songs when he puts on this Fat Albert-character voice that Prince is doing. I will say that the melody and main musical riffs in this song are not bad. If Prince could have made these sounds with any instruments made from once-living materials it may have been interesting in a fascinating, thumbsucking kind of way, like a good song from XTC's Oranges and Lemons.
"Papa"
Prince begins with some mysterious talking. I sense some kind of psychodrama in development, like the Purple One's about to do his very own, funkified "Street Hassle." Here's a big, cheesy chorus, complete with Sam Ash Sound instrumentation. And then it ends.
"Lovesexy"
Yet another Prince song based on big blocks of synth chords with Sam Ash Sound guitar fills and a cast of thousands singing tight harmonies on the choruses. This isn't bad, but it's not "Little Red Corvette." Again, though, although the notes being played are interesting, they don't sound like musical instruments. It might as well be that band in Jabba the Hut's club playing. (Prince fans: do you sit around listening to that band in Jabba the Hut's club?) Here's one of his patented group talk-sing parts with a lot of phony, arranged "party hoots." (Prince fans: how many times, on average, have you seen Cats?) Prince fans: do you typically experience difficulty taking a healthy dump? I'm choking from the lack of oxygen in this music.
"Shy"
The dry, funky "Thankyoufalettinmebemyself"-style riff that kicks off the song is promising, but quickly he's getting into Cats-harmony territory. It sounds like the lyrics are supposed to be about street violence, or something like that. Prince doesn't strike me as a guy who's ever walked down a city street. Does anyone know anything about his childhood? I mean his real childhood, not that Purple Rain fantasy of standing doe-eyed in a doorway while some amazon chick parades across the room. The guitar licks at the song's fade are cool. Gotta love the Southern Rock harmonies!
"When You Were Mine"
I'm surprised that the title of this song actually spells out the word "you," or maybe even the collection's compiler couldn't bear to pass on that tired "Prince spelling." I may know this song. Isn't this one that rock guys sometimes cover to show they're down with Prince? Damn that guitar sounds direct! What am I missing here? Why shouldn't I listen to a poorly produced Squeeze song instead? Why shouldn't I listen to George Michael instead? At least his production doesn't suffocate me. This wouldn't be terrible as a demo for an actual band to cover using instruments made of once-living materials.
"Sign O' the Times"
Where's my inhaler? It's really hard to buy Prince as some street savant. Maybe I'm underestimating the guy, but he prances around like a china doll. Even when gazing doe-eyed at his worshipping flock of amazon women he doesn't seem like he ever touches them. This guy and his music creep me out!
"Mountains"
I sense from the title alone that this is going to be some "inspirational" song. At least it's not a ballad but, rather, a song based around…big blocks of synth chords. And here comes the cast of thousands singing tight harmonies on the chorus! I have to respect how alien this guy is, but I can't tune into music that sounds like this. If I'm going to listen to stuff this processed I don't want to pretend it's some kind of upbeat party music. It's the same problem I have with a couple of the late-period Talking Heads albums. I can't party down with robots! Get some real flesh playing wooden instruments, otherwise let me listen to something that uses technology to point out how cold and isolated we've become, like a Laurie Anderson album.
"Damned if I Do"
This would make an interesting deep cut by an underachieving artist, like Todd Rundgren or Jason Falkner – or Prince, I suppose. Totally Prock! Is it just because these are deep cutz, or are lyrics typically not a strong point of The Artist? UGH! What's this little latin breakdown in the coda? Actually, it's kind of growing on me the way some of Stevie Wonder's least-necessary latin breakdowns can. In fact, I bet a couple of those instruments are made from once-living materials! Now, back to the Sam Ash Sound on the guitar. Too bad.
"Crystal Ball"
This one runs for 10:28 and starts off with white noise and some kind of pipes of pan toots. The title tells me this may be highly significant in the development of the Prince persona. Now…WTF?!?! Prince is singing in some kind of faux-stoned Sly Stone voice. The music is occasionally interesting. If a bass guitar would ever enter this song (or any song on the album – there's a distinct lack of bass in Prince's music, isn't there?) it might go somewhere. Cool guitar riff with some "untuned" effect? I want to hear Prince shout out, "Bass player!" the way he did "Maceo!" on the first song in this mix. I don't think that's going to happen. Oh well, I dig stuff that adds up to about as little on my War albums, so why shouldn't I enjoy this number for what it is?
Hey, did he just call in the bass player? Yes, listen to that ridiculous, processed bass solo. This is the best track in this collection. Prince sounds like he's actually going to grab one of his amazon women as he plays a little solo. There's a serious braniac instrumental arrangement going on – more of an ensemble piece than a "solo." Pretty cool. Promising. Is this what all the musical fuss is about? Now there's another interlude with silly drum solos that sounds like it belongs in a "rock" musical, but I'll forgive him for moving back into Broadway territory. I'm 9 minutes into this song, and I don't feel like opening an investigation on the life of the friend who made me this collection.