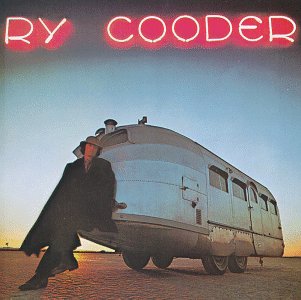 Yesterday was an especially bad day in the Mr. Moderator household. One of those end-of-the-holidays blues days, in which every family member was miserable and no house, not even Windsor Castle, would have been big enough for each of us to grumble in private. At one point I was in such a bad mood that I looked through my albums and pulled out an album Townsman Geo gave me a couple of years ago, the first Ry Cooder album.
Have you ever pulled out an album you typically don't spin while in some extreme mood, whether high or low?


I'd spun this album a couple of times after Geo handed it to me, and although I liked the guitar sounds a lot, I had trouble tuning into it. Anything so conciously blues and folk based is hard for me to dig into. Nevertheless, Geo (and a few others here, including BigSteve and Dr. John) had already helped loosen me up to some of these early-70s textured Warner Bros. types, including early Little Feat and Jackson Browne's album about his woman who committed suicide. This bad day seemed like as good a day as any to revisit Cooder's solo debut.
As I sat and stewed, the album sounded better than ever. I recognized one of the songs as being a cover of a Woodie Guthrie song. I recognized and appreciated the string arrangements by a guy I usually consider one of rock's greatest hangers on, Van Dyke Parks. I felt a kinship with all of my bearded friends and fellows in the above clip, who are typically more apt to dig this stuff. I have no idea how I'll feel about this album next time I play it, but I think my especially bad mood opened me to something new. My guess is that I'll carry some of that experience into my next experience with the album.
Have you ever been in an extreme mood – of any sort – that opened you to sounds you typically wouldn't feel?