After Creedence broke up in 1972, John Fogerty made a bluegrass album called Blue Ridge Rangers in 1973. Then in 1975 he released an album simply called John Fogerty.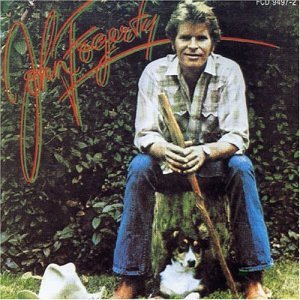 I'm not sure why this album went nowhere, maybe Fogerty's time had passed or maybe there was no promotion. Wikipedia says that "Rockin' All Over the World" was a Top 40 hit, though I certainly don't remember that. I thought sure that song had a second life being covered by other artists, but my research (ok, the All Music Guide) only shows that Status Quo recorded it.
_fKlORAIYkk]
But the other great song on the album, "Almost Saturday Night," was familiar to me before I ever heard Fogerty do it. Dave Edmunds did a fine version on the Twangin' album.
cwlUfAxPHgU]
The Searchers did it on their terrific 1981 album Love's Melodies. AMG says The Burritos, Rick Nelson, the Georgia Satellites, and Gene Clark also did it. Actually I thought both of these songs were more widely covered, but the Edmunds and Searchers albums were big in my world back then. Also I think my memory subsequently mixed in Kimberley (Soft Boy) Rew's "Stomping All Over the World" (from the excellent Bible of Bop album). Probably influenced by the Fogerty song.
Kimberly Rew, "Stomping All Over the World"
The John Fogerty album is a little covers-heavy, but they're done well. There are a couple of New Orleans classics – "Sea Cruise" and "I'll Be Glad When You're Dead You Rascal You" – but the best cover is of Jackie Wilson's "Lonely Teardrops." That's one of those songs you'd think should never be covered, or at least that you couldn't cover it well, but I love this version. Fogerty throws out the cha-cha feel and just goes with a straight shuffle. He even throws out the whole middle part ("just … give … me a … nother chance" etc) and sticks to repeating the verses. But he hits a nice groove and makes it work, which is surprising since I believe Fogerty did his thing of playing all the instruments (no credits on the album).
Oddly the tracks on this record seem more fleshed out than many CCR records. My theory is that Fogerty was such a control freak with his old band that the backing tracks often seem like demos to me. So when John started playing everything himself it paradoxically gave a more liberated feeling to the tracks.
Anyway the eponymous album seems to have become a victim of Fogerty's label/legal troubles, so it's currently unavailable, except for here on RTH.
John Fogerty
"Rockin' All Over the World"
"You Rascal You"
"The Wall"
"Travelin' High"
"Lonely Teardrops"
"Almost Saturday Night"
"Where the River Flows"
"Sea Cruise"
"Dream Song"
"Flyin' Away"
Technical note: This is a vinyl rip, and you may find the sound a little thin and brittle, contrary to conventional wisdom. For LPs I used to use the Loudness switch they always had on receivers back in the day, and that works fine. Nowadays when I listen to these mp3s I use the "bass booster" effect on iTunes. Your mileage may vary.