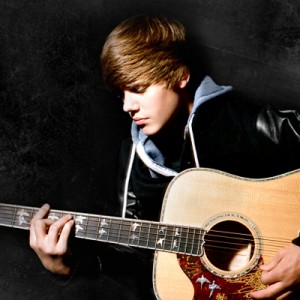 It's 5:12 PM EST and I just learned that today, August 13, is Left-Hander's Day. What the hell? I've been left handed all my life and no one's ever told me about this day. In the remaining hours of this blessed day, let's have a time-sensitive Last Man Standing on left-handed guitarists. Lefty bassists count too, but we'll rule out banjo players, mandolin players, lute players, lap-steel players, and the like. We'll also rule out guitarists like myself, who are left handed but decided to learn to play right handed to make it easier to buy guitars and play other people's guitars. The guitarist (or bassist) has to play left handed.
I'm kicking things off with Justin Bieber, who coincidentally I just learned was a left-handed guitarist about a half hour ago, when I picked up a recent issue of Rolling Stone and saw him strumming southpaw.
Entries in this time-sensitive Last Man Standing will run through 11:59 pm EST. The actual Last Townsperson Standing will be awarded a VERY SPECIAL PRIZE! Game on!