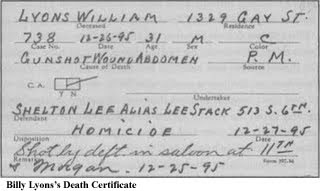 The facts in the case follow thus: In 1895, Lee Shelton, a pimp also known as Stack Lee, killed one William Lyons in a fight concerning a hat. Through that wonderful American machinery known as folklore, we went from murder to myth.
Stack Lee, Stagger Lee, Stagolee, Stack O'Lee, The Midnight Rambler, The Crawling King Snake, The Brown-Eyed Handsome Man, Superfly, he goes by many names and he recurs in the oral traditions of song as a metaphor that structures the male ethos, black as well as white. Stagolee has taken shape as ballad, as blues, as jazz, as rap, as epic, as folk song, and as rock and roll.
He's the "bad man", the rebel, the counterculture hero, and the perfect figure for us to mine our collective knowledge of song to find his instances. Any variant of his name is acceptable, and let's see how far his legend stretches (á la the examples set by Mick Jagger, John Lee Hooker, Chuck Berry, and Curtis Mayfield, above).