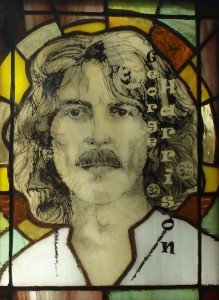 I'm finally getting around to watching this George Harrison documentary, having completed the first half on Independence Day. So far it's great! I'm honestly shocked.
First of all it provides the one thing any Beatles-related documentary or book needs to provide: fresh images of my rock 'n roll gods. I am pretty easy to please when it comes to Beatles things if I get to see new still photographs and film clips. It's probably like the thrill some religious people get when they see a new stained-glass window depicting Jesus on the cross or whatever.
Second, the story starts by framing George square in his career with The Beatles—and it's not from the Woe Is George perspective I was expecting. George is one of the boys, slowly developing his own perspective on the world through the band's unique experiences. I put off watching this thing for the last year fearing that it would be produced from the perspective of the Mother's Basement crowd, you know, those thumb-suckers who take the position that George was "screwed" all those years and that his true genius and equal standing among John and Paul finally came to the fore with the release of All Things Must Pass, including side 6's underrated "Apple Jam." Hey man, it's cool that George is a hero to the quieter ones among us, but let's be real when it comes to the balance of talent and drive within The Beatles. In part 1 of this documentary, George actually comes off better for his efforts, achievements, and examples of quiet leadership without Scorsese feeling the need to make him a victim.
A bonus delight, as far as I'm concerned, Paul McCartney has not yet come off as the glib, self-serving ass I've grown accustomed to seeing in these retrospectives.
I look forward to watching part 2. What did you think about this doc?