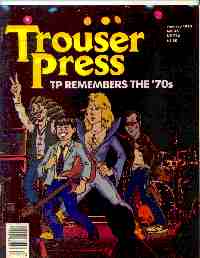 Growth chart
The January 1980 issue of Trouser Press (#46) has been hauled around with me since I left my Mom's house. This special issue recapped the '70s on one half and then looked into the exciting future of the '80s on the other half. You have to flip it upside down halfway through. Pretty cool. To this day I keep it in the drawer next to my side of the bed. I still pull it out a couple of times a year to mark my rock growth.
One feature that really helped me in my growth as a rock nerd was "Some 1970s Albums You Might Have Missed." I quickly memorized this list and went about trying to track down as many of these albums as possible. To this day I'm sure I could find some of them online in a remastered CD version, but I still want to find what I'm missing on vinyl. Among the albums I might have (and did) miss were the first New York Dolls album, Tucky Buzzard's Allright on the Night, Pink Fairies' Kings of Oblivion, and Sparks' A Woofer in Tweeter's Clothing.
In 1980 my rock mind was nowhere near as formed (and ossified, some might say) as it is today. Phrases from Ira Robbins' write-up, like "all-time weird American art rock LP" held more weight than his initial impressions: "impenetrably arcane and smug…punny lyrics…" I was ready to trust Robbins in his claim that multiple spins at loud volume would allow the "true delight of Woofer to come to the fore." I wanted to believe! I needed to believe.
Around 1983 I tracked down a used copy of this album and another one from that period, Kimono My House, at an anarchist bookstore called The Wooden Shoe, which had a small, interesting record bin. I couldn't wait to get home, fire up, and crank up this Ira Robbins-approved lp!
I did not get it. Not after firing up. Not after cranking up. Not after repeated plays. I did not get it and I did not like it. Usually, after repeated plays of almost any album I bring home I find something to like, even it it's something I like because it's so uniquely bad. Problem was, Sparks wasn't bad, they just hit all the wrong buttons for me:
I never cared much for Queen.
I cared less for Queen without a few concise, emotionally resonating songs.
Sparks' songs had too many unnecessary changes.
The pretty boy singer's voice did nothing for me.
The Hitler mustache-wearing guy's schtick was a major turn off, even in the days before YouTube, when just seeing a photo of him and that "mad genius" stare was enough to make me want to vomit.
The pretty boy's Robin Zander-cum-Ice Capades Look was a turn off.
What I could make of the lyrics seemed to have nothing to do with my interests.
The Hitler mustache was annoying. Post-Hitler, references to Charlie Chaplin's mustache, unfortunately, expired.
The pun-laden album titles quickly reminded me of other '70s bands with pun-laden album titles that I'd never cared to hear, such as You Can't Tuna Fish But You Can Tune a Piano, or whatever that one was called.
Reevisiting them now through YouTube, with the incriminating visuals, is completely unfair. I would like to revisit this band with a better attitude. Can you help me? Can you point to strengths that I may be overlooking, strengths that might overcome the image of the Hitler guy's schtick and the singer's Sweatin' to the Oldies stage moves?
Surprisingly their synth-pop, mini-hit, "#1 Song in Heaven", is the best thing I've found by them:

I thought this track they did with Jane Wiedlin, the Go-Go that we all once fantasized having the best chance with, would be good, but it reeked of all the things I initially hated about Pee-Wee's Playhouse. I did come around to that show about 20 years after the fact. Is there hope for me and Sparks?

Here's another promising clip I found, in which their sense of humor, almost devoid of their music, shines.

I look forward to your aid in furthering my understanding of this critically acclaimed band.
VISUAL-FREE LISTENING ZONE ON NEXT PAGE