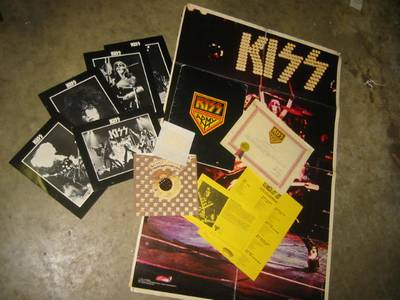 Townspeople of a certain age were queried on their KISS memories. Let's begin by calling roll.
ROLL CALL!
Randy: I can't stand KISS. Or their army. In fact, it wouldn't bother me a bit if all our troops were pulled out of Iraq and replaced by the KISS Army. Kill two birds with one stone.
Chickenfrank: KISS Army deserter.
JimmyMac: I'm not a KISS Army vet per se. However, I was an avid KISS fan and am somewhat versed in their history. I also have a modest repository of memorabilia that surfaced during my recent move. Metaphorically speaking I guess I had musical "flat feet" and never was drafted. (I never dressed up like KISS and didn't attend a concert until my 30s. By that point, they had already become a lampoon of themselves. Two 50-ish Jewish men lumbering around the stage in fancy dress desperately in need of a schvitz by mid-set.)
Rich: I wanted to join, but I failed the physical. Had to become a Ted Nugent Weekend Warrior instead.
Chris: Officially? No. I was a diehard fan; they were my first concert (AC/DC opened). I have all the vinyl, but I never enlisted. I have painted my face before, actually with two of my brothers and a bandmate for the reunion tour in '96. I was Ace, if you're wondering.
Al: I never joined either. I was one of those kids that members of the KISS Army liked to beat up.
General Slocum: The KISS Army, as far as I can remember, first came to us via an insert to the album Rock and Roll Over, which was the album that burst my bubble, and confirmed for me that the direction they were going on Destroyer was only going to continue, and worse. And in the mid-70s, most of us were at least hippie enough to resent anything that so smacked of little-league fascism as to be called an "army." For their first 4 records (up to Alive) they were one of my fave bands. Those albums still have a simple idiocy which appeals to me. We went last summer to a church fair up here, and there was a kid running one of the toddler rides, and while John was on the ride, we complemented his KISS Army tattoo. He said he had just gotten it. I said they were my first concert, and he said "me, too!" I said, mine was 32 years ago, and I saw them when Dressed to Kill was out. It was a perspective-stretching excercise for us both. But, no, I never joined up.
Dean: I never joined and will confess to never owning or liking KISS. Good for a laugh but nothing more…
A good friend in high school was an uber fan (and almost certainly an Army recruit), but I didn't join him. He did however introduce me to prog-rock and we both attended my first rock concert – ELP at the Spectrum.
So, my question to you KISS fans – Is Paul Stanley gay? Not that there is anything wrong with that. But I have seriously wondered.


Art: My cousin, who is 10 years older than I am, looked like John Bonham and was a Zeppelin fan. He was also a huge influence on me circa 1975-1982 (until i heard Black Flag). He thought KISS were "gay." That was "kids stuff" to him. I adopted his attitude.
The reason I bring it up is because maybe it's useful to remember the whole "Zep vs KISS" thing that was happening at the time. There was either an issue of Creem or Circus that was devoted to it. The dividing line was clear. It was a serious rift in heavy rock culture. Brother against brother. Some people are still fighting that war, you know…
COMING HOME
Rich: I don't really know if there is a modern parallel (bands of their stature wouldn't crank albums out so fast these days), but it was astounding how quickly Kiss went from being the band everyone loved in 6th Grade to being the band no one admitted to ever liking in
7th Grade. All of us with our stoner training wheels on, quickly moved to serious rock, like The Nuge and Aerosmith. Future pencil pushers and science geeks moved on to Rush and the like. In
hindsight, always trust your preteen instincts. "Free for All"
notwithstanding, the Motor City Madman was a Chevy Cavalier. No amount of listening to "Back in the Saddle" can wash the taste of all the prom dreck that Steven Tyler and Co. have produced, lo these last 15 years. Rush…I won't even… Thank god for the advent of cable tv and the nonstop airing of Rock 'n Roll High School on Showtime in 9th Grade.
General Slocum's comments aside, I liked most of the stuff up to Alive II. They then seemed to jump on the same train that took Cheap Trick to suckville. But, for a few years they put out some records that have held up pretty well.
Randy: As far as rock & roll's armed forces go, Ginger Baker's Air Force was a far more effective military machine for cranking out cool, quality music.
Chris: I was never officially a member but I was a big fan for about 2 years (76-77). I had all their albums up to Alive 2. They were my first concert (I had an earlier ticket to see Skynyrd but the plane crashed). AC/DC opened. Tickets were $7. I couldn't believe what I was seeing onstage.
About 6 months after the show, I lost interest in them. It happened pretty quickly. They just seemed really uncool all of a sudden. I moved onto Aerosmith and then the Velvet Underground.
For a long time thereafter, I tried to reject my own past, sort of like those vets from a different army who threw their medals over the White House fence in the early '70s. But The Replacements' cover of "Black Diamond" made me have a rethink.
In '96, two of my brothers and a buddy of mine painted our faces (I was Ace), for their first reunion tour. Not one thing changed in 19 years. It was stupid and fun and kind of comforting.
So sure, their songs manage to somehow be both simplistic (read: retarded) and bombastic. Their lyrics are both juvenile and – well, they're just plain juvenile. The marketing is crass, the pose is ridiculous, and the less said about that codpiece the better. And don?t get me started on the production or the playing. But come on, they're frigging KISS. They?re the perfect combination of lowest-common-denominator rock and all star wrestling melodrama. Does every movie have to be Citizen Kane? Isn't there room for Shakes the Clown, too?
By the way, I love their Rod Stewart knock-off, "Hard Luck Woman". Heresy to most, I'm sure, but there it is!
Charlie: I got nothin'. As long as this stays an imagined event, I'll think about Gene Simmons doing some bassneck rocket launching into buck privates. Ech, maybe I won't. Calling followers an army is almost as retarded as that band was/is.
Rodney: Paul Stanley? Gay? The guy's seen more women's asses that toilet seat at Sisters.

JimmyMac: I'll build on 3 themes that have emerged: 1) Is Paul Gay?, 2) KISS was not good/they weren't good after album X, and 3) An "Army"? – What a silly idea.
1) I could reference Paul's effeminate dancing in the "Tears Are Falling" video and concede defeat but there's still an argument in there somewhere. In his recent book, Gene Simmons recalls an early show where the A&R guy in the crowd didn't offer them a deal because he thought Paul was "too gay," thus proving that this is truly an age-old question. I always read the confident swagger and sultry tenor of Paul on the live albums as the epitome of hetero male bravado. It wasn't until I saw them on a reunion tour that a realized what a prancing, posturing fancy lad he was. Whereas Rob Halford and Michael Stipe have come forward in mid-life and said "Geez, I was prancing around in S&M gear/a dress onstage, are you people that stupid that I actually have to tell you I'm gay," Paul has never had such a mid-life admission. He actually married recently. He's certainly compensated over the years by waking up with 10 naked women named Carol in his bed in a home video ("I guess you could say I went Caroling last night:)" and claiming that he only wore that cheapest, gaudiest lipstick that an actual woman would never wear. Modern-day little Stanley Eisen is beginning to resemble grandma yetta from The Nanny and would probably go unnoticed at a Palm Beach ladies auxilliary lunch with all of his plastic surgery, make-up, black curly wig and flowing, satin clothes. Verdict: Total fem-bot (in period-appropriate epithet) but he's still one of the top chick magnet rock gods in my book.
2) I was introduced to KISS via Destroyer about the time it was competing with the theme from Rocky I. I always saw the records up to Alive II as a coherent body of their best work. You had the transitional records like Destroyer and Unmasked that segued to their later work in the '80s that was really no different than the rest of the commercial glam-dross coming out of LA at the time. Were they ever good? Compared to live footage of their NYC kindred spirts the New York Dolls and Sid-era Sex Pistols, they don't seem to have been any worse. I certainly look back and smirk at how trite some of it sounds. I was crushed to learn recently that Kiss Alive was largely overdubbed in the studio because the live show was so bad. Verdict: They hit the nail on the head – rock and roll is a burlesque of teen angst, it's sloppy and funny, larger than life, has no rules and shouldn't take itself too seriously. Thanks for reminding us and laying the groundwork for the future greatest lyricysts in rock to form their own bands.
3) I think an Army is an over-the-top, brass-balls metaphor for an organized group of devotees who will dutifully follow orders ("Get them hands in the air, buy our records, etc). I don't know if the KISS Phalanx would have been the same. The bottom line is that it was probably nothing more than a glorified snail-mailing list. The army clearly lacked the organized zeitgeist of a modern fan club like the Juggalos of the Insane Clown Posse. (Check out their credo online – kinda creepy compared to a femmy guy in high heels singing trite rhymes to an out of tune guitar.) In retrospect I don't think I missed anything by not being able to participate in an online discussion of Paul's lipstick or what Gene uses for fake blood (although I'm pretty sure my screen name would have been ColdGin65).
hrrundivbakshi: I'll share: living in Central America during my prime KISS years, I so wanted to join this mysterious KISS Army of which the albums spoke – but the best I could do was wear a sky-blue t-shirt with a sparkly, frankly cheesey vinyl iron-on of the band in Hotter-than-Hell-era garb. I wore that damn t-shirt out, let me tell you. My proudest moment was when a particularly devout Christian dude at my missionary-heavy school, upon seeing my sparkly, vaguely rebellious t-shirt, disgustedly said: "I think KISS is what the name sounds like, spelled backwards: SSIK!" Even as a 12-year-old, I knew that was one hell of a stupid thing to say.
I posit that the cut-off point KISS album for each and every one of us who ever liked them is the one that came out after we were making the transition from child to teen. I mean, I dunno how old you guys are, but the albums that came out when I was 12-13 – Rock and Roll Over and Love Gun – kick major ass and are measurably better than their first three. I thought the little bit of studio gloss served their Rock well. Funny how Destroyer always seemed gay to me and my friends – though "King Of the Night-time World" is still on my list of "must cover it before I die" songs.
General Slocum: Well, I was a late bloomer, I suppose. But even at the re-teen age of 45, I posit that the albums from Destroyer to Love Gun were in fact crappier and crappier. And the first three are still their best. The stupid, rough, pig-ignorant production helped prevent them from seeming so gay right away. And if the first live album was dubbed? That only drives the point home! They overdubbed the whole thing and that is what they ended up with?! Wow. they did indeed speak to my inner pubescence when I saw them on Mike Douglas. I immediately asked for tickets for my 13th birthday to see them at The Tower. First concert, first major pot smoking, first seeing my parents when high at my uncle's house near the Tower to get a ride home. Anyhow, they rocked. I was so ready to see things blow up. And their suckiness was only really sad when they did things like the extended drum solo (ouch!) which shouldn't be done by anyone but the most amazing soloists in the first place. But I can say they were not noticeably out of tune. And Chickenrank, please send me a list of bands you should have been pummelled for liking when you were 12 so we can get this going! Village People, indeed! "Strange Ways" by the dubiously talented Mr. Frehley still sounds heavier than anything played by the later metal (or "alloy") bands in the '80s. Anyone who never heard anything that wasn't played at a school dance needs to do just a little research before soapboxing. Kids today…