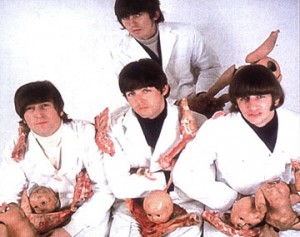 I recently read a review for the following book, http://www.goodreads.com/book/show/16293348-bang-bang, so I can't claim to have thought of this idea but In the book, above (keeping in mind I haven't read it), it sounds like Maxwell, the killer, brings his silver hammer down upon the head of his victims.
Here's a part of the book's description:
Youthimax is a cure-all miracle drug from Johnson and Johnson which has all but eliminated death in modern society. Which is great news. Unless you work at a funeral home. The O'Rourke Funeral Home in West Philadelphia has fallen into obscurity, along with it's two sole employees. Max and Bligh waste the days away sleeping in coffins and counting shovels until that fateful day that they decide to become serial killers. The drunken Bligh finds serendipitous instructions in the Beatles tune "Maxwell's Silver Hammer" and convinces his partner that it's only right that Maxwell kill with a silver hammer. With little business and less regret, Maxwell and his alcoholic train wreck of a partner become the most infamous serial killers in Philadelphia history…
This sounds like a job that the minds of RTH can take off and run with. So, give us your best elevator pitch.