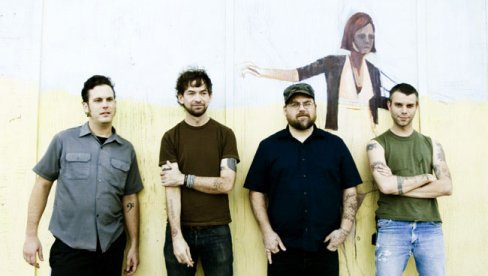 I've written this three times, because it's always way too long for RTH, and way too fawning for me. Maybe Mwall's "tuneless" comment is intimidating me! I found out about Lucero from a one=word post on a message board that answered the question, "Where does a Replacements fan go in this century?" A one-word answer that seemed so sure, stuck in the middle of a bunch of posts that lamented the loss of The 'Mats and the usual, "Rock is dead now," crap that every generation seems to say when they get bored with rock n roll seemed to say it all. "Lucero." I was intrigued.
I missed The Replacements. I had some Uncle Tupelo cd's while they were a functioning unit, but never saw them. I found out about Whiskeytown when Stranger's Almanac came out, and again never saw them. I completely missed Jawbreaker. I found Lucero's latest album (at the time) in Massachusetts the week it came out. The kid at the counter asked me who they were and I just said, "I dunno. I hope they're good." The album was That Much Further West and as it turns out, guitar player Brian Venable isn't on it, and he's a main reason I've come to like all their other albums more than the one I initially found. I've seen them several times, the first time all by myself. The last time I had six other people with me. They were my band, then they were our band. They aren't quite everyone's band, and maybe that will never happen. I hope it does for them, but if it doesn't I already know that their albums aren't the kind that sit on my shelf for years between plays, and I know in 20 years I'll still feel lucky to have their music.
Where does Jawbreaker fit in all this? The other bands I mentioned have that Americana vibe, and share a knack for decent lyrics and nice turns of phrase. Jawbreaker shares that lyrical sensibility, and while their sound musically leans more punk than country, Lucero are big fans and Jawbreaker shares as much in their influences as The Replacements or Uncle Tupelo. The Jawbreaker song "Kiss the Bottle" is always a highlight when they play it live. I bet some of their fans think it's a Lucero song. Their live shows are always fun, and the band can range from super tight to drunk and sloppy all in the same song, but that's how bands that I like tend to play. I think for some of Lucero's fans, their nods to Jawbreaker and The Replacements are just one more thing that brings them closer to their fans.
Jawbreaker – "Kiss the Bottle"
Lucero – "Kiss the Bottle"
Wanna hear someone famous miss the point?


I just don't buy it from the guys that fight Foo.
One of the things I like about Lucero is that their lyrics are vague enough to relate to almost anyone, but just specific enough to apply to most people in some way.
You were sixteen
When you fell in love
All grown up now
Once was enough
To beat the odds one night
Forty East
Ben Nichols certainly isn't Bob Dylan, but he isn't trying to be, either. Beating the odds on 40 East could be almost anything. A car crash, hitchhiker pickup, long walk home or whatever. Everyone was sixteen, and everyone has beat the odds, or at least felt like they did. Throwing in a Replacements reference is a nice wink to the longtime fans.
Lucero – "Sixteen"
I think they're a pretty interesting band, and I am almost positive that if I were still a teenager, this would be my favorite band. The songs cover subjects like girls, family, girls, army, girls and drinking. I'm pretty sure if they stick to that formula, they can have a career that lasts forever! Lucero just signed a major label deal with Universal for four albums. They have really fattened up their sound and almost incessant touring has made them a pretty tight unit. Can they walk that fine line from the underground to indie powerhouse? Who knows? The seven albums they've done so far are all worthwhile, so they've already had more of a career than most bands, and I hope they get "as big as Wilco," which Ben said they could handle once.
Lucero – "Drink 'Till We're Gone"
Lucero – "Sing Me No Hymns"
Lucero – "Across the River"
I never know which songs to pick, and I'm not saying these are their best. These are just some that I like, and mostly that I happen to like for this today. Check out this YouTube video some guy did for a school project. I hope it's his first one! It's a good song, though.