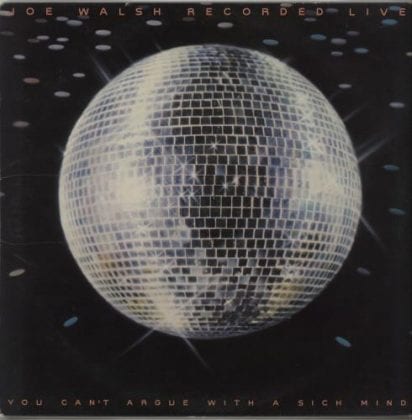 I remember a conversation I had at a record store with an owner that knew me well and when I was buying some music she said, "You really like live albums, don't you?" I said, "I suppose, but doesn't everyone?" She was emphatic when she said that so far as she could tell most people didn't like them at all. Since I was thinking about it, I decided I'd take a look when I got home and see how many live albums I really have. If I include The Stones, it's a ton but I wasn't thinking specifically about them. I was thinking more about everyone else. She was right. I seem to like live albums.
Right now, I'm listening to one of the two AC/DC albums I have. I have Back in Black and If You Want Blood. I haven't played Back in Black in 25 years and I doubt I've listened to If You Want Blood in a long time, either. I didn't have to get far in my record collection to come across my first live album, and it wasn't even AC/DC, that was the second one. While I'm listening to it I remember why I bought it. When I was in school AC/DC was one of the newer bands kids listened to, and I never really liked their sound. They sound so produced and artificially gigantic on their studio records. A friend had the '74 Jailbreak record and I seem to remember that was hard to find or expensive, but I liked that one because they sounded like I thought they should. My friend told me this one was easier to find, and I'd probably like it just as much. It's never been one of my most played records, but I definitely like this better than all their studio records. They sound like 5 guys blasting some decent rock 'n roll and not some polished studio product.
I think the first live album I ever bought was either Joe Walsh's You Can't Argue With a Sick Mind or Bob Seger's Live Bullet. We used to call that one Double Live Bullet when we were kids. I don't know why the amount of records in the package was added, but we definitely called it that. That Joe Walsh album was one of my favorites when I was 14. I had it on 8-track and I took it everywhere with my Panasonic Dynamite 8. I seem to remember having Bob Seger on vinyl but it's definitely not the same copy I own now. Those were really huge records in Cleveland in the middle of the '70s. I bet the Classic Rock station still plays songs from the Bob Seger album every day. Bob's Beautiful Loser album was actually a thing in Cleveland but not half the thing those songs became when the live album came out.
I still buy live albums. If someone asks me what Rory Gallagher they should check out on Spotify I used to tell them Irish Tour '74, but now I tell them Check Shirt Wizard, which is the same band he had in '74, but it's recorded in 78 and Rory dissolved that band after this tour. It's some tight, loud Blues Rock that's probably a little faster than the more straight Blues from '74. Then, Neil Young is releasing practically every concert he ever recorded lately. I stay clear of the ones with just Neil and an acoustic guitar and I had written Neil of well before Ragged Glory, but the recent release with Crazy Horse, Way Down in the Rust Bucket, has been getting a lot of attention from me since it came out. I liked his Tuscaloosa album with the Stray Gators a lot, too.
As I look at my records, I see I definitely have a lot from the '70s. I suppose that's kind of the heyday for live albums. Some of them aren't really even all that "live." Get Your Ya-Ya's Out has a lot of extra studio work to it. Jumpin' Jack Flash sounds completely reworked. It's a great record, though. I don't really know why so many people don't seem to like live records. There's good ones coming out all the time. If you look for the Live at Third Man Records series you can find some newer bands in that series and they sound real good and they're really inexpensive. I've got Blitzen Trapper from 2016, and I play it pretty often. They have a ton of them, from Wanda Jackson to Waxahatchee. Then there's the New West Live From Austin City Limits series. Man, these are great!  I've got Steve Earle, Neko Case, and Tony Joe White and I'd definitely buy more.
Do you like live albums? Does it matter if they have studio work done to make them "better?" If you don't like them, why not?