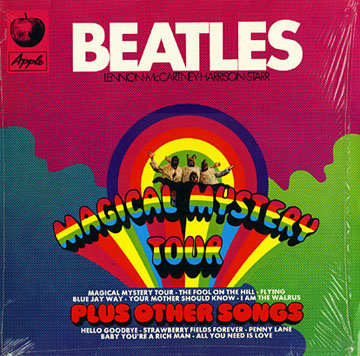 A few of you have heard me rave about the 1971 German release of The Beatles' Magical Mystery Tour in true stereo. A few of you have had a copy of this album foisted upon you by yours truly. The release was the first true stereo release of a Beatles album, and I believe it greatly benefits this cinematically conceived album.
In the coming days, I'll be posting a track at a time from the German true stereo release. Each track will be posted as an .mp3 with full knowledge that this somewhat defeats your Moderator's rare mind-meld with audiophiles. To further deflate any audiophile's expectations, these .mp3s have been burned from my copy of the album. I take decent care of my albums – better than some, much worse than others. Despite these limitations, I'm confident that you'll hear some of the differences from the original release and hopeful that you'll feel some of the benefits of the true stereo mix.

I've been a fan of Magical Mystery Tour since receiving my standard US release as a boy, not too long after it came out. I'm still in awe of the cheesy booklet with stills from the BBC movie. Even seeing the movie a few times – a bit of letdown, at best – failed to dampen my enthusiasm. I've always liked it better than its celebrated and backlashed predecessor, Sgt. Pepper's Lonely Hearts Club Band. Magical Mystery Tour is loaded with cool playing, from Paul's subsonic bass to George's psychedelic guitar licks to the drumming style Ringo first touched on in the b-side "Rain". John's "Strawberry Fields" is never, for me, the single that, historically, preceded Sgt. Pepper, rather it's the fantastic song that kicks off side 2. That's how I grew up hearing it, and that's how I'll think of it. "I Am the Walrus" is also a show stopper. Long before I'd ever heard of standard-issue Roger Waters-led Pink Floyd (let alone the Syd version), Lennon blew my young mind.
In 1981, when a friend first played me the German, true stereo version of this childhood favorite, my mind was blown all over. The added space in these stereo mixes allowed for the appreciation of new textures. For more than any other Beatles album, I think the songs are constructed as textural pieces. The more the fabric of the songs rub up against you, the more there is to songs that, compared with previous Beatles releases, can sound like filler or retreads from prior releases.
This may sound preposterous to those of you who know me well, and I can understand why you might feel that way. Typically I hate the concept of remastered reissues that fundamentally change the way I hear mixes of songs I'd been hearing and loving for years. (Case in point: remastered reissues of Brian Jones-era Rolling Stones albums.) Also, typically, I'm loathe to buy the style over substance argument that allows people to go apeshit over Jellyfish records, but I'm not immune to loving a record almost solely for its style. (Case in point: The Pretty Things' SF Sorrow.)
If this is all old news to you, sit back and enjoy the show – or lend a guiding hand to discussions that may follow. If this German release is new to you, I encourage you to check it out. Tomorrow you'll find the album's first track posted, the title track. Until then…