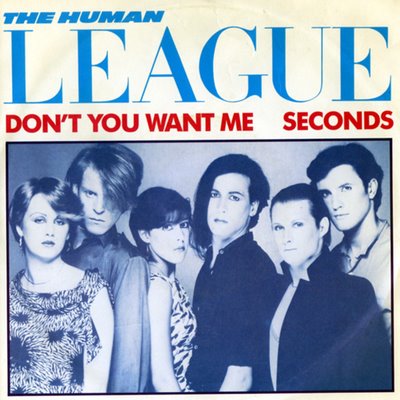 As I may have mentioned a few times over the years, I HATED THE 1980s!
I hated '80s style and culture in general, but as a music-obsessed person, I especially hated "'80s" music, which I typify as synth-pop featuring Yahmaha DX7s and strained vocals. I hated hair gel and guys with dyed hair. I hated asymmetric hairdos and shirt collars. I hated shirts with shoulder pads and epaulets. I hated puffy socks and women wearing jeans with high-riding waistbands. I even hated Madonna, although stripped of her iconic '80s style she was my idea of a Hot Woman. Thankfully Madonna provided some opportunities to confirm that suspicion.
I hated what the '80s did to Michael Jackson. I hated the bright colors. I never aspired to androgyny. I even hated much of the "cool" underground music of the '80s: hardcore, shitcore, REM, that goth stuff like Bauhaus coming out of England… I even hated bands that were making music fairly similar to my own band's aspirations because I was jealous of their relative success.
I think I hated myself as much as anything. I grew up in the 1970s, feeling pretty much out of place but certain that I would develop into a well-rounded hipster in my early '80s college years only to be unleashed in a world where I fit in even less. Damn you, 1980s!
Today, my wiser, kinder, gentler self occasionally hears Human League's "Don't You Want Me Baby" on the radio and thinks to himself, "At least I always liked that song. There must have been another 24 hit songs in the '80s that I liked, right?"
Well, were there? I am calling on you, my trusted Townspeople, to help me recall whether I liked 25 hit songs from the 1980s. The rules for submission follow…after the jump!
My wiser, kinder, gentler self has been pondering this question for a good half dozen years or so. Thinking about it again today I can only recall the following characteristically '80s songs that I like AND, more importantly, liked then.
Human League, "Don't You Want Me"
Spandau Ballet, "True"
John Waite, "Missing You" (Yeah, I know he was slightly established as part of The Babys, but they weren't major artists in the 1970s. Who would have spotted John Waite walking down a street before his 1984 solo hit?)
Madonna, "Like a Virgin" (Does a way better job with the riff from Prince's "1999" than the Purple One himself.)
New Order, "Temptation"
INXS, "???" (the song with a soaring sax riff that sets up each chorus)
That leaves at least 19 songs for you to help me recall and assess in my wiser, kinder, gentler effort to show that I actually had some connection to that era's popular music culture.
A few exclusions to my reassessment of '80s music should be taken into consideration:
Songs with an '80s tinge by previously established '70s artists like Bruce Springsteen, Hall & Oates, and Van Halen don't count. Same goes for synth-colored hits by artists from my New Wave high school roots, such as Talking Heads, Blondie, The Cars, Tom Petty, and the like.
Hit songs from the 1980s that don't really sound like '80s songs, such as Dexy's Midnight Runners' "Come On Eileen," don't count. (And yes, I was already cool enough to have purchased the band's first, cool album before they broke bigtime, but I don't count early Dexy's under the "previously established" exclusion rule.)
Songs I hated in their time but now practically love, such as Eddy Grant's "Electric Avenue," don't count.
Songs that I now realize I didn't know upon their original release and only learned about in the early '90s, after a remix version appeared on European MTV with a funny Sid and Marty Kroft-style video (eg, the 1990 remix of The Cure's "Close to Me") don't count.
Songs that I liked for the opening 2 minutes in the 1980s but that eventually bored me by going on way too long, such as the 3 Prince classics I almost fully like—"Little Red Corvette," "1999," and "When Doves Cry"—don't count.
Unmemorable (to me) songs by bands that even I could tell were good compared with their contemporaries, such as ABC and Yaz, don't count.
I will only consider '80s-style songs that I knew and, possibly, actually liked when they were popular. For purposes of this exercise I am also excluding the couple of Sugarhouse Gang rap songs from the early '80s that I liked. They were so early in the decade and I was so deep in my brief "This Is Radio Clash" acceptance of the new genre that my critical faculties were essentially disabled. The 5 or 6 songs I like from that scene are still fun to hear on my Sugarhill Gang's Greatest Hits collection.
Please help me fill out a list of 25 hit songs from the 1980s that I actually liked. Thank you.