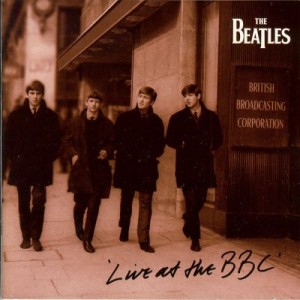 I guess no artist is picked over more than The Beatles. I still cycle through their works a few times a year. Well beyond my teenybopper years I've done things like sit on the floor with Beatles albums and books spread around me, pouring over them for new meaning, new connections—both to the band's inner workings and my own wiring. We even talk about them here once in a while.
For all the time I've spent contemplating the actual riches of "Honey Pie" and "Your Mother Should Know," for instance, two songs I hated throughout my childhood, I haven't spent a 10th as much time digging into the 1994 release of the band's BBC recordings. Do you know this stuff? Anytime I do plop that CD onto a tray and push PLAY I'm astounded at how much character the early Beatles give off on any tossed-off cover they perform. They were naturals. Any young musician who dreams of someday attaining something special through music should first listen to these recordings and then take a good look in the mirror. It's not that the songs or the performances are necessarily fantastic, but all that's special about them, from their influences to their comfort in their performing skin, is right there on the table.
At the risk of sounding any more like Captain Obvious, I'm going to continue digging this CD, which I'm usually too much of an Early Beatles-phobe to spin. I'm telling you, though, next time you feel the impulse to give John's Somewhere in New York City or Paul's Wild Life another try, pull out this release instead.