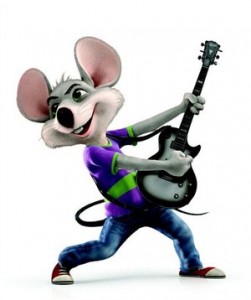 Chuck E. Cheese is getting a rock 'n roll makeover.
The new Chuck E. Cheese that launches this week will be voiced by Jaret Reddick, the lead singer for the pop-punk band Bowling for Soup. The Chuck E. Cheese Facebook page now shows a silhouette of a cartoon mouse playing a guitar.
A rat mascot for a kids' food joint. A spokesman who's sung a jokey love song to his "bitch." Dirtbag Nation, if you ever doubted that Chuck E. Cheese was the place to hold your kid's next birthday party rest assured: your trash is welcome. But don't let that perv Pee-wee and his act anywhere near the children!