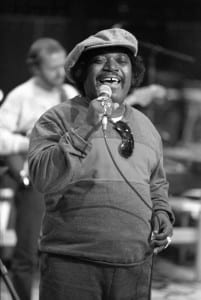 Singer Percy Sledge has died at 73, after an estimated 27,000 performances of "When a Man Loves a Woman."
I used to think only so much of Sledge for his one big hit, no matter how great it was. It was overplayed by the time I was 15, and it inspired Procol Harum's "Whiter Shade of Pale," about which I've always had mixed feelings. About 15 years ago E. Pluribus Gergely and I saw him at a soul revue show at Atlantic City featuring Jerry Butler, Lloyd Price, and others. I've mentioned this show a few times before. Don Covay was in the audience, seated in our row, just a few people down from us!
EPG and I started to snicker as Percy waddled out in a tight-fitting tuxedo to sing his "one and only song." (I know, I know, he made other records, some of which I'm sure are fine.) I expected him to come out like a wind-up doll, but a minute into the performance I felt he was still giving it his all. The performance moved me more than I could have imagined. That was the only song he sung that night, but he committed to it after god knows how many times he had to perform it. Pretty cool!