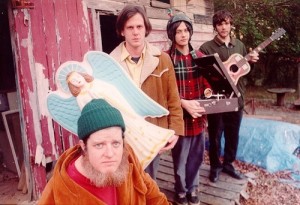 This fun review of Neutral Milk Hotel's recent Philadelphia show asked the following question, which kind of applies to me:
15. Are there people, like actual music fans, who still don't know who Neutral Milk Hotel is?
OK, let me see if I can answer this. I'm an actual music fan.
I know who Neutral Milk Hotel is, I like a few of the bands from the '90s that are creatively related to them, but the few times I've knowingly heard their music it has made no impression on me. It just sits there like room-temperature Apples in Stereo or Beulah or any number of bands from that scene, bands that give me at least a little spark.
What am I missing? Are they my modern-day version of Love's Forever Changes? I guess not, because despite my lack of appreciation for that Love album, at least it gets a reaction out of me.
Was there a drug I had to take while listening to them? A girl I should have been dating? Do I need to listen to their legendary album with the olde-thyme spelling of "aeroplane" multiple times while being coached on its finer points by a trusted Townsperson who's attuned to my quirks, like Geo or Oats
Is it mainly the fact that the band's leader, Jeff Magnum, is one of those mysterious genius types who seemed to run from the spotlight following his breakthrough moment? Do I have that much of a problem with guys who seemingly take their ball and go home just while the game's getting good? I can imagine that being a huge factor in my inability to hear this band for what it supposedly is.
However, I'm a bigger man today. Open-minded. Kinder. Wiser. Gentler. Please explain Neutral Milk Hotel, and I will carve out time to revisit their catalog while your passionate words of wisdom ring in my head.
Thank you.