Among our regulars, I'm calling on Happiness Stan to help explain England's late-1960s skinhead movement. If there are other Townspeople out there who have something to add that I haven't already learned from that beacon of accurate and original reporting, Wikipedia, please chime in.
How did a rock subculture rooted in an appreciation of Jamaican and African-American music become associated with right-wing politics? Did anyone who lived through this era note a shift in how skinheads were perceived within the rock community? I've read that the skinheads were an outgrowth of the mods. How did that shift take place?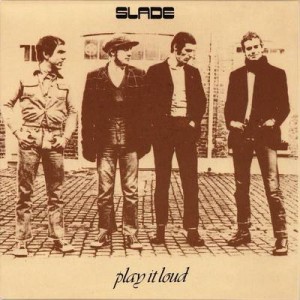 In 1969, when the hippie-styled members of Ambrose Slade chopped off both their shoulder-length locks and the "Ambrose" part of their band name was their timing a bit off, or was this only a good idea for a very brief period? I ask because a year or so later they were looking like the glam band American rock fans had only a faint idea about through their 1970s prime before 1980s Hair Metal bands adopted them as forefathers.
The 1970 Slade album I just bought, Play It Loud, with them in their skinhead finest, has some solid, hard-rocking numbers and avoids overtly goofy songs and song titles with kitschy misspellings. Were there other badass, post-mod skinhead bands at that time that Americans wouldn't know existed? I like how Slade at this brief moment in time retains the sensibilities of a high-energy, fat-free mid-1960s band while being just a little tougher and cruder than their predecessors. They come off like The Jam or Sham 69, at times.
Just a year later Slade would embrace Little Richard-influenced excesses that would typify ROCK music in the early '70s.
The records I have by this version of Slade have their moments, but they're all so stupid and lacking in anything worthwhile or related to the human experience. They only seemed to tap into their brief, menacing vibe of the best songs on Play It Loud in their choice of covers: