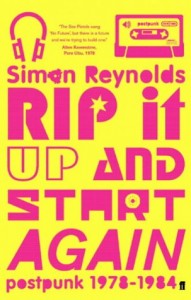 Everyone has their decade and judging by recent RTH threads, the 1960s topped many people's lists for the Best Era of Rock. And although I appreciate the music of the 1960s, a large part of my heart is saved for the '80s. Much of this connection reflects my personal experiences growing up in the '70s and '80s, followed by the watershed experience of receiving my first copy of the Trouser Press Record Guide. But as I've become older, I continue to listen to and think about a lot of this music.
So I offer this bridge to our fellow Townspersons who may sneer and consider the 1980s an era of ridiculous fashion and over-the-top musical groups. But it didn't necessarily start out that way. I paraphrase the mighty Simon Reynolds in his stellar history, Rip It Up and Start Again: Postpunk 1978–1984, that 1978–1982 rivaled the years 1963–1967 in the amount of amazing music, the spirit of adventure and idealism, and the way the music was connected to the social and political events of the era.
Ladies and Gentlemen, may I present the Post Punk Years:
But first, a few words about Punk music.
I'm not really sure what it is. I've sought a clear, concise definition and have become increasingly confused by the British and American music writers' examples. But for the purpose of my further discussion, I would like to offer these signposts of Punk: a stripped down sound, a return to the basics (of chord structure, of instruments, of Do It Yourself), a confrontational response to the world, and in the words of Reynolds, "a destructive response to boredom." 1976 could be considered Punk's Year Zero, and many writers point to the Sex Pistols' Manchester show of February of that year as particularly iconic. It inspired a slew of bands to make their own music. But it also encouraged other musicians to break out of the Punk mold and create their own forward-thinking music. As Johnny Rotten famously said, "Ever get the feeling you've been cheated?" The man changed his name, his group, and his music. Post-Punk was born.
Post-Punk: Music for and by those who felt that the revolution wasn't over. It included movements such as the Tribal Revival (The Slits, The Pop Group), the Sheffield futuristic synth sounds (Cabaret Voltaire, The Human League), No Wave New York (Teenage Jesus, Sonic Youth), the San Francisco Freak Scene (Flipper, The Residents), Industrial Devolution (Throbbing Gristle), Militant Entertainment (Gang of Four, The Mekons), the Manchester scene (The Fall, Joy Division), the Art scene (Talking Heads, Wire), AND the figureheads of Post-Punk, Public Image Ltd. (You know how taxonomic music writers like to get.) And I don't know who originally came up with the Post-Punk label. But in interviews with the musicians, producers and record label personnel, themes were apparent. These artists took Punk and ran with it. Rather than keeping with the same sort of message, these musicians took the spark of Punk as the catalyst to continue the DIY ethos but added a commitment to change, an earnest belief that "music can transform the world," and "a set of open ended imperatives including innovation and "willful oddness." As Reynolds pointed out, "The 'Post' doesn't signify you've jettisoned those preceding ideas but rather you've complexify them, exploring the gaps, and interrogating hidden assumptions." They took the starter of Punk and added in reggae, ska, female musicians (not just singers), funk, brass, disco, Latin and African percussion. A whole lotta rhythm. Some of the bands were organized for socio-political reasons (the overt political ideology of Gang of Four and Scritti Politti) or to demonstrate sexual political beliefs (women could be musicians, not just singers).
Then came the other styles: the New Pop, Ska Revival, New Rock, Punk Funk, and Goth movements. In America, this whole lot seemed to have been packaged as the all-encompassing New Wave (cue the checkered tie), but truly, those years of 1978–1982 were, by whatever name you called them, a revolt against the Old Wave of a "golden era of rock."
I love so many of these bands and have a special fondness to those that feature a heavy bass track or some interesting synthesizer sounds. And in interviews (especially in Reynold's companion volume, Totally Wired: Post-punk Interviews and Overviews, the musicians are interesting (sometimes complete assholes) and appear to truly have a vision that they are trying to get across. If we want to make a band that combines some Vic Goddard vocals and add disco guitars, why not? Shall we mimic the sounds of the post-industrial landscape with some rare, new synthesizers – nice if you can get them to work. What happens to Punk when we downplay the guitar and instead focus on congas and other percussion instruments?
Post-Punk may be a hackneyed, vague term created by some retro-focused music writers. (The movement is alternately spelled Post Punk, Postpunk, Post-Punk, and Post-punk.) But the bands of that period had a vision. As Allen Ravenstine of Pere Ubu once said, "The Sex Pistols sang 'No Future,' but there IS a future, and we're trying to build one." That sound and that ethos continue to appeal to me. And hopefully to you, too.
For an opposing view from the Bad Attitude Club, click here.