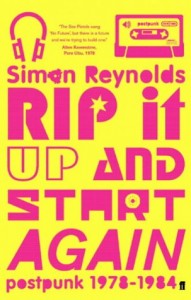 Everyone has their decade and judging by recent RTH threads, the 1960s topped many people's lists for the Best Era of Rock. And although I appreciate the music of the 1960s, a large part of my heart is saved for the '80s. Much of this connection reflects my personal experiences growing up in the '70s and '80s, followed by the watershed experience of receiving my first copy of the Trouser Press Record Guide. But as I've become older, I continue to listen to and think about a lot of this music.
So I offer this bridge to our fellow Townspersons who may sneer and consider the 1980s an era of ridiculous fashion and over-the-top musical groups. But it didn't necessarily start out that way. I paraphrase the mighty Simon Reynolds in his stellar history, Rip It Up and Start Again: Postpunk 1978–1984, that 1978–1982 rivaled the years 1963–1967 in the amount of amazing music, the spirit of adventure and idealism, and the way the music was connected to the social and political events of the era.
Ladies and Gentlemen, may I present the Post Punk Years:
But first, a few words about Punk music.