Nick Lowe's 45-year career as a singer-songwriter, record producer, and all-around musical instigator is a one-man Village Green Preservation Society, to quote the Kinks' 1968 mission statement. After brief spell in a Cream-influenced psychedelic rock band, Kippington Lodge, Lowe and his fellow UK mates, including future standouts in the late-'70s new wave scene, got an early start on "preserving the old ways" in the Americana roots-rock band, Brinsley Schwarz. A big push to launch the band in the States flamed spectacularly, and in the US their records would be left for music nerds to dig out of the far reaches of used record bins for the next decade.
In 1976, following the demise of the Brinsleys, he hooked up with veteran Welsh musician and producer Dave Edmunds and carved out a role for himself "protecting the new ways," as house producer for fledgling punk/new wave label Stiff Records. His "So It Goes" b/w "Heart of the City" was the first single on Stiff, and it heralded the artist's devil-may-care approach to writing subversive takes on AM Top 40 hits of the '60s and early '70s. His solo output at this time peaked with his second album, Labour of Lust, on which he was backed by Edmunds and fellow members of Rockpile. The single from that album, "Cruel to Be Kind," with the shaggy video including scenes from his wedding to Carlene Carter, is the most vibrant expression of the new wave era's cheerful sense of fatalism. He must have been a good fit for the June Carter-Johnny Cash clan.
As a producer, Lowe made his mark helping Elvis Costello & The Attractions craft a diverse, high-octane run of 5 straight albums in 5 years, including their unexpectedly sincere take on one of Lowe's Brinsley Schwarz-era hippie goofs, "(What's So Funny 'Bout) Peace, Love, and Understanding." Known as "The Basher," for his no-nonsense approach to both work and play, Lowe wasn't messing around, although frequently it just seemed that way.
By the mid-'80s, despite a few minor hits and continued successful production work, Lowe was losing his way. His records lost their snap. The jokes were growing stale. The snappiest of that run, 1990's aptly named Party of One, was nevertheless the end of the line for Nick the Knife.
I suppose with my advancing age I'm not quite so interested in tricks in the studio, sort of wham-bam-thank-you-m'am.
A few years later, financially secure thanks to a Curtis Stigers cover of "(What's So Funny 'Bout) Peace, Love, and Understanding" being included on the soundtrack to Whitney Houston's schlock smash, The Bodyguard, a mature Nick emerged. He was done chasing pop stardom, done with dick jokes. He embraced his pop classicism on albums like Dig My Mood, The Convincer, and At My Age. His latest album, The Old Magic, goes even further in this vein, skirting the raunch of rock 'n roll, soul, and country music for something more akin to early '60s dinner club pop balladeering. The new album has been a tougher sell for me than his last few gems, but Lowe's craftsmanship and comfort in his own skin are impressive. Over the phone, Lowe was as warm, open, and engaging as his music might suggest. He made a couple of mentions of the thrill of meeting and playing with one of his own heroes, the recently deceased Levon Helm, and his new musical friends, Wilco. A thrill's a thrill, whether it's the thrill of looking backward or the thrill of looking ahead.
RTH: I was looking at your tour schedule and was saddened to see that this coming Saturday you were supposed to play a Midnight Ramble show with Levon Helm. I know you'd appeared with him on Elvis Costello's Spectacle, which I didn't get to see. Had you met Levon before, say in the Brinsley Schwarz days?
NICK LOWE: Yes, I sure did. The Brinsleys had a house just outside of London., where we all used to live together. One day some people phoned up and said the Band, who were doing a big show at Wembley, in 1972 or '73, needed a place to rehearse. These people said, "Can they come out to your house and rehearse?"
They hadn't played for a while. We just couldn't believe it, we were such big fans. Anyway, they all turned up, they played on our equipment, you know, ran once through what they were going to do on the show, and off they went again. I might have said, "Hello." It was a huge thrill.
RTH: When you played with Levon on Spectacle was that the only time you'd performed with him?
NICK LOWE: No, we did a Ramble. I got to play with him a bit more; we did some old rock 'n roll numbers. He's just one of the greatest rock 'n roll drummers. Yeah, that sounds really silly to say that, but it's so rare to hear drummers that can play rock 'n roll properly. I got to play some old rock 'n roll numbers with him, and that was a real great thrill for me.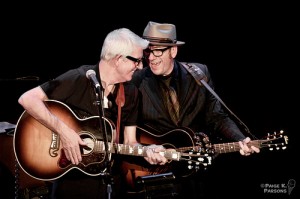 RTH: Growing up, a lot of your work was the soundtrack to my teenage years: the stuff you did with the Rockpile gang, the various Stiff singles, and the albums with Elvis Costello. From that period do you have a favorite recording experience?
NICK LOWE: Oh, well there are many, but the thing is you have to go for the first one that occurs to you. I would think that one of the – well, there are two, I suppose, but they're similar, they're both with Elvis. We used to record in a very, very funky, old studio, because it was so cheap. For a while everyone recorded hits there: "Sultans of Swing," "Roxanne"… It was a tiny, tiny funny little place, but it had a great sound.
The experience that comes to mind would be "Watching the Detectives." We just couldn't believe that we'd made a record like that in that room. It was almost like none of us had anything to do with it, you know, we just turned up and out came this incredible record. And I still can't quite believe it when I hear it on the radio.
Also "Alison." We did "Alison" in the same studio. The recording of "Alison" is a rough mix. Sometimes, especially in the old days, you'd do a rough mix at the end of a session. You'd just throw up a quick rough mix and you'd take it away and listen to it. "Alison" was one of those, just a rough mix at the end of a session. We could never get anywhere close to that whenever we tried another mix. We'd mix it again and it sounded like a different song. It was a real mystery.
RTH: Sticking on the production theme, on your new album,  The Old Magic, and your previous 4 albums, took a real turn for you, with a natural, restrained production that works great. I was thinking, compared with your earlier, dynamic, sometimes crazy productions do you still feel there's a common thread in your production work when you put together a record.
NICK LOWE: I do, actually, yes, I do. I suppose with my advancing age I'm not quite so interested in tricks in the studio, sort of wham-bam-thank-you-m'am. But I still like a natural feel and sound, like a human being. I know that, unfortunately, the general public don't really like records like these. They like something that sounds like it's not going to have too many surprises. That homemade, handmade feel. Luckily, many people do like this, but I'm afraid we're in the minority.
RTH: You've crossed paths with Wilco a lot in the last year: you showed up with them on Austin City Limits, the "Sensitive Man" video, and you've got the Autumn Defense opening some shows. Is there a possibility of you doing something with Wilco in the future, like an album?
NICK LOWE: Well, who knows? I certainly did make some new friends touring with them. They're very nice fellows, really great musicians, music lovers…and their audience are very musically literate. I didn't know how it was going to go opening for them, you know, a guy on an acoustic guitar. Their audience liked what I did.
As to us doing something in the future, there are plans, vague plans. It's all rather up in the air at the moment because we're both touring so much. I would be very, very happy. If nothing else they're very agreeable people just to hang around with. I'd enjoy that.
RTH: I've read a lot of interviews with you, listened to many interviews, and everyone wants to ask about your legendary former in-laws, but I'm not sure if I've heard stories about your own parents. Were they musical? Did they support your early musical efforts?
NICK LOWE: Yeah, my Mom was very instrumental in getting me interested in music when I was a kid. She was a pretty good singer, and she also taught me to play the guitar, but very rudimentary, just a couple of chords. We used to sing together and play together. She taught me to sing harmonies. We played old Lonnie Donegan stuff, who was so inspirational to my generation of musicians.
In other ways she had good records: Sinatra and Nat King Cole and Peggy Lee. Show music: South Pacific, My Fair Lady, that sort of thing. I loved all that music. Also, most importantly, she had 2 – I don't know where she got them – she had 2 Tennessee Ernie Ford records. When I heard that stuff I really thought that was special, and I still do.
RTH: You're a relatively new father; your son is 7. What kind of music dad do you think you are? Are you force-feeding him stuff? Steeling yourself for the day you come home and find him listening to Pink Floyd?
NICK LOWE: Oh, there's much worse stuff than Pink Floyd. Ah, he's definitely musical, he definitely is. He's got a drum kit and can catch a groove. He's a very good singer. He listens to the stuff that me and his Mom listen to: rock 'n roll, gospel, early '60s pop records. He listens to quite a wide range of stuff, actually. But he finds his own stuff, stuff he thinks is great that I can't listen to. Real modern pop music. He loves it, and that's good enough. Kids aren't supposed to love all their parents' records, but he does like the stuff we like.
RTH: So as I said, I've grown up with your music and a cool thing that I appreciate with your career – and it's more than just longevity – is I feel you have grown up with me. You're still kind of setting the pace ahead of me. I can still listen to your music for guidance and comfort. I wonder if there's an artist from your youth who you feel is still here for you today, as you've matured?
NICK LOWE: Ah, that's a great question. Well, Otis Redding comes to mind. Sam Cooke. And Merle Haggard, he's always, always there.
Nick Lowe & Band appear at the Keswick Theatre, Glenside, PA, on Sunday, April 29, at 7:30 pm with Tift Merritt. (This piece courtesy of Phawker.com.)