I can do without the lousy chorus in The Who's 1972 oddball single "Relay," as lip-synched here on Old Grey Whistle Test, and I can do without Keith Moon's mugging for the camera in this particular performance, but after years of completely dismissing this song I watched this clip and wondered if I needed to reconsider.
The Entwistle-Townshend funky bass-guitar action is excellent! Considering that "Eminence Front" is my least-favorite Who song ever, and one of my least-favorite songs in the history of rock what I'm about to say might damn the song with faint praise, but the funky bass-guitar action in "Relay" is all that "Eminence Front" could have hoped to be.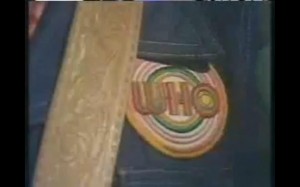 Then there are the intangibles, including
Daltrey's perfect sideburn:curly locks ratio, which may eclipse the best ratios achieved by the likes of Joe Cocker and Rob Tyner
The Medieval bass Entwistle plays (the headstock could kill a one-eyed giant!)
The dog-ugly Who patch on The Ox's dog-ugly denim jacket
Daltrey's really into it, for god knows what reason
I'm on the fence about Pete's peasant shirt, but let me know what you think about this possibly overlooked piece of rock costume jewelry.