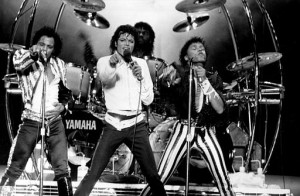 I have been going to see concerts since I was 13 (well 11if you count being at a Chicago concert, though we were on the other side of the park and could hear but did not see them). Since then I always gave my dad a hard time about not seeing the great  '60s and '70s bands in their prime. His excuses were (1) The Draft and (2) the expense of concert tickets in NYC when you have 2 infants (so basically MY fault). He missed The Rolling Stones, Led Zeppelin, Allman Bros/Dead at the racetrack 5 miles from our house, Bruce, The Who, Steely Dan, Dylan's Rolling Thunder, etc. Shame on you old man, but thanks for taking care of your kids too!
So at 14 or so my brother and I decided that we would see EVERY band that came to town. And we stuck to it for many years. I have been able to check off just about every major band that has toured in my lifetime that I had any desire to see (oh, and Britney Spears, who I saw anyway).
My bucket list is down to 5 artists, and I just heard that 2 of them will be in my area this year:
Brian Wilson (Gershwin show I think)
Neil Young  (Buffalo Springfield added 30 shows to their tour this fall)
Still left….
They all tour and  have been to Atlanta, Just missed them for one reason or another. Did I miss ALL of them in their prime? Certainly, but I feel like I have completed 95% of the rock and roll crossword puzzle and need these last 5 crossed off.
I never saw Oasis, and of course they are broken up and I've had people say I really missed out on Radiohead. As far as big acts (not counting Rap, R&B acts, some of the Metal bands that I did not like until much later). It would be hard to stump me.
PS – I had a ticket for Michael Jackson with The Jacksons (victory Tour) but got a soccer-related concussion and missed the show. My family told me that I was there and kept this lie for many months before they finally told me that I did actually miss the show. I had a T-shirt and everything.