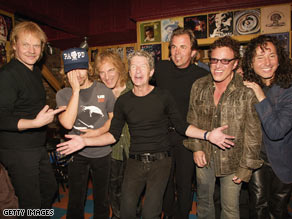 Time to strap on a dynamite belt?
In a recent thread Townsman Chickenfrank made the following comment that is worthy of bringing to The Main Stage, as part of our occasional Rock Crimes series. His comment may still qualify as May's Comment of the Month (I'll have to consult with the judges), but until then, this is too important a topic not to bring to the fore.
Chick wrote:
CNN has an article about classic rock bands reuniting and recording new material together. The photo of Journey, Styx, and REO Speedwagon all together seems akin to Hitler, Pol Pot, and Idi Amin miraculously being together simultaneously. If I were to strap on a dynamite belt and eliminate either of those trios, would the country celebrate a 3-day weekend for me?

Stay tuned for new songs by Chicago and Earth Wind and Fire together. I assume Tower of Power was busy that weekend.
Chick's question raises a number of other questions that may be worth discussing here:
If his dynamite belt could eliminate only two out of three of these heinous bands, which one would (to be clear I ask would not should) survive?
In the Steven Speilberg film of this historic event, who would play our real-life hero, Chickenfrank?
Which band is Mussolini and who in the rock industry is Chamberlain?
I'm sure you've got thoughts of your own on these questions as well as others. On this Memorial Day weekend, I think it's only right that you share. Thanks!