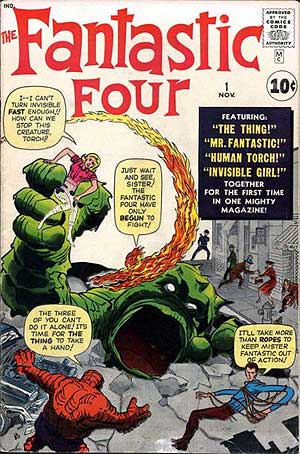 I'm not a comic book guy, but I know some of you are. I do, however, think of certain rockers in terms of their comic book-style superpowers, so I'm looking forward to what I may learn from this discussion. Rock superpowers can be very important skills.
From what I can gather regarding the Marvel comic The Fantastic Four, which debuted in 1961, this was a new kind of superhero group, one that was as in touch with its "family" dynamic, human flaws, and celebrity as much as its responsibility to fight bad guys and display their superpowers. Since they came on the comic scene shortly after the birth of rock 'n roll, I've chosen them in our quest to design a rock 'n roll analogy.
Who's your Rock 'n Roll Fantastic Four, your Mr. Fantastic, Invisible Woman, Human Torch, and Thing? Full bands can count if covering all four characters, but they cannot count collectively for one character, dig? You must select four individual musicians (they can be members of bands) based on their rock superpowers, crime-fighting abilities, and maybe more importantly, psychological profile.
If you need some help thinking about this Fantastic Four concept, here's Wikipedia's description of the original Fantastic Four:


The four core individuals traditionally associated with the Fantastic Four, who gained superpowers after exposure to cosmic rays during a scientific mission to outer space, are: Mr. Fantastic (Reed Richards), a scientific genius and the leader of the group, who can stretch his body into incredible lengths and shapes; the Invisible Woman (Susan "Sue" Storm), Reed's wife, who can render herself invisible and project powerful force fields; the Human Torch (Johnny Storm), Sue's younger brother, who can generate flames, surround himself with them and fly; and the monstrous Thing (Ben Grimm), their grumpy but benevolent friend, who possesses superhuman strength and endurance.

Since the original four's 1961 introduction, the Fantastic Four have been portrayed as a somewhat dysfunctional yet loving family. Breaking convention with other comic-book archetypes of the time, they would squabble and hold grudges both deep and petty, and eschew anonymity or secret identities in favor of celebrity status. The team is also well known for its recurring struggles with characters such as the villainous monarch Doctor Doom, the planet-devouring Galactus, the sea-dwelling prince Namor, the spacefaring Silver Surfer, and the shape-changing alien Skrulls.
Here's a blog tribute to them that also may help you form your analogy. Feel free to extend this discussion to related characters in the Fantastic Four saga.