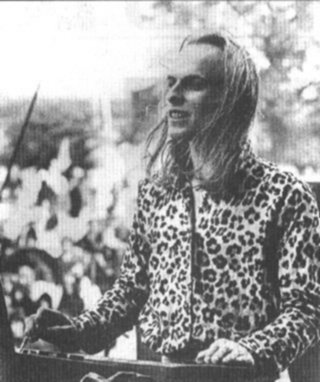 Eno catches a breeze.
Since this first posted, we've learned this is Brian Eno & The Winkies, from a BBC appearance. Seems this live band only supported Eno on a handful of gigs. All four songs from this session are now included for your pleasure. Thanks, BigSteve!
Somewhere on the Web, I believe on some Roxy Music site, there's a very brief (20 seconds?) clip of Brian Eno and musicians in the studio, playing "The Paw Paw Negro Blow Torch." I was really excited when I found this clip. I can't find it at the moment, but supposedly it's from a movie that was made of Eno in the studio at this time. I've never been able to find another frame of the movie on the Web, and it's hard enough finding anything at all written about it. Just now I tried to find a capsule review of the film that I've seen before, but no dice: just a bunch of stuff regarding Eno's work with U2 and Coldplay. Even a film and rock collector friend has had no dice finding a print of this film or more than the brief descriptions that we've occasionally run across. This guy's got all kinds of obscure films in a warehouse, but he can't get a sniff of this Eno film we so badly want to see.
Luckily I keep a bunch of stuff around, in a not so organized fashion, including CDs of mp3s I downloaded about 8 years ago on a computer that long since died. The IT guy at my old place of employment was able to extract all my precious downloaded mp3s and mpgs, including the following two: live tracks in the studio, I believe, of Eno and bandmates – possibly from this very film! I especially love the straightforward, Stonesy rhythm guitar of this version of "The Paw Paw Negro Blow Torch." Enjoy.
Brian Eno, "The Paw Paw Negro Blow Torch (BBC)"
Brian Eno, "Baby's On Fire (BBC)"