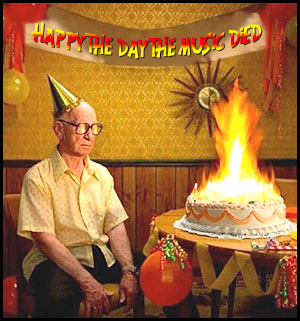 In our continuing review of Rock Town Hall's first 5 years as a blog, we will be providing some brief reviews of key aspects of this place. The hope is these overviews will pay homage to the contributions of our peers and provide newcomers easy access into the blog's rich past. Let's look at Rock Town Hall's role as a home for the holidays.
Typically readership and participation in the Halls of Rock dips during any holiday. That's probably to be expected: people do have lives. That doesn't mean the Hall doesn't celebrate the holidays—and even create new holidays to satisfy music lovers' need for observance.
The Hall's observance of Christmas, for instance, has a rich tradition, beginning with our northvancoveman-spearheaded Christmas mixes, alexmagic's touching And Tonight It's Their Hair Instead of Yours, and capped off each Christmas eve by hrrundivbakshi's tear-jerker, The Rock Town Hall Christmas Story Is Retold.
Prime among the Rock-olidays Townspeople have created, however, may be The Day the Music Died, observed annually each February 3. This, of course, is the day music lovers take pause to memorialize the tragic plane crash that prematurely cut short the careers of Buddy Holly, Ritchie Valens, and perhaps most tragically, The Big Bopper. The only thing Rock Town Hall was not able to achieve by officially recognizing this holiday was giving folks a day off from work.
Other popular rock-olidays we have created and celebrated include California Day, recognizing the the Golden State's contributions to rock 'n roll; the self-explanatory JAMuary, which to date in 2012 we have sadly overlooked; and Exploitive Black Rock History Month, which recognizes events in rock that may not in fact be a cause for celebration.
Finally, it was not exactly a rock-oliday, but few events in the history or Rock Town Hall were as memorable as our 2007 KISS Army Reunion, including reflections pro, con, and all shades in between.