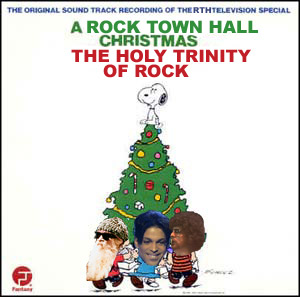 In honor of Rock Town Hall's original Canadian (and hockey) correspondent, northvancoveman, is it time we prepare for the Hall's third Christmas music mix (see and hear our first RTH Christmas)?
Christmas has long been a cause for joy in the Halls of Rock. If our old friend northvancoveman is ready to come home for Christmas, may I pose an even grander challenge? Rock Town Hall asks, Will YOU be home for Christmas?
You know who I'm talking about—founding members like E. Pluribus Gergely, kpdexter, dr john, dbuskirk, meanstom, sally cinnamon… Hell, saturnismine reappeared yesterday before he knew I called him out. This means something.
What about our dear friend, the delightful Happiness Stan? What about tonyola, who's cape and Moog synthesizer lean against the fireplace, a chilling reminder of Christmas future?
Are you ready to compile a new Christmas mix? State your themes here and now.
Are you ready to come home for the holidays?