Tuesday, February 3, 2009, marks the 50th Anniversary of The Day the Music Died, that is, for those of you…
Too young to have grown up with Don McLean's "American Pie"
Too sober and reasonable to have ever been at a "normal person" bar with patrons drunkenly singing along to said song as an acoustic cover duo signals Last Call
Blessed enough to have missed Madonna's atrocious cover of said song from its brief appearance on the charts a few years ago
…the day an airplane carrying Buddy Holly, Ritchie Valens, and The Big Bopper went down near Clear Lake, Iowa, killing the three early rockers and the plane's pilot.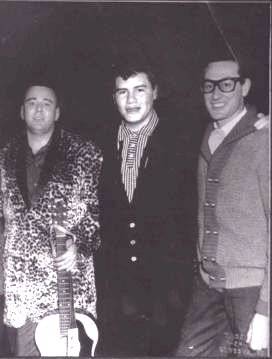 (Holly's the guy who looks kind of like Gary Busey.)
If the sentiments of McLean's song and rock criticism are to be believed, this momentous event – together with Elvis Presley's induction in the U.S. Army, Jerry Lee Lewis' marriage to his 14-year-old cousin, and Little Richard's swearing off of rock 'n roll in favor of The Lord – would set the stage for a few years of mostly wimpy rock 'n roll and indirectly lead to John F. Kennedy's assassination and England's Profumo Affair, the latter a sexual scandal involving a politician that would provide a slap to the butt of the newborn Beatles, reawaken The Power and Glory of Rock, and many years after the fact introduce me to the cute-as-a-button screen presence of Bridget Fonda.
The small plane was supposed to have carried only Buddy Holly and two bandmates, including future country music icon Waylon Jennings, but Valens and JP Richardson (ie, Bopper) subtly pulled rank and took the Crickets' seats. Bad move for the opening acts, but a boon of varying degrees for Gailard Sartain, Gilbert Melgar, Lou Diamond Phillips, and Stephen Lee, among other actors who've had the honor of portraying these artists in films, telemovies, and stage plays.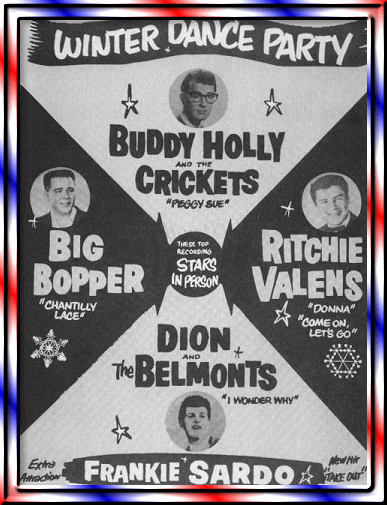 Dion would live to jam with Lou Reed
Dion DiMucci, of Dion and the Belmonts fame, was also approached to purchase a seat at $36, but thankfully the stress he'd absorbed growing up with hothead, skinflint Italian parents bickering over their family apartment's $36 rent scarred him, and he happily hopped on the free bus with the common backing musicians.
Rock 'n roll revived for at least 20 years following the arrival of The Beatles, but on this mournful anniversary we'll be reviewing – and celebrating – what may have been lost forever, what may have been gained, and where rock 'n roll may yet be headed in the post-Holly/Valens/Bopper landscape.