Ok, are you familiar with that cover? Did you ever actually buy Roger Daltrey's 1975 solo album, Ride a Rock Horse, his second release apart from The Who? I never did, nor did I knowingly know anyone who had, not even my old high school friend, Stuart, who seemed to own every other Who-related release, including bootlegs.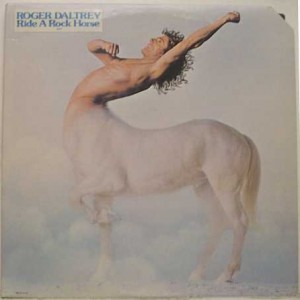 Last October, my close, personal friend, sammymaudlin, bought a used copy in a Philadelphia record store. Someone had to rescue that thing from the dollar bin. Being that he is a web designer and graphic artist, with an interest in expanding his work in designing album covers, it was only right that I let him buy the album, so that he might research design mastery behind the cover art.
Scant details on Ride a Rock Horse exist on the usually informative and completely accurate Wikipedia: http://en.wikipedia.org/wiki/Ride_a_Rock_Horse.
I wanted to learn something about the making of this album: the whos, the whys, the wheres. Mostly I wanted to get my head around the whys. Have you ever heard this album? It's got all the bombast of mid-'70s Who music with the sort of horn charts John Entwistle might work into one of his solo songs. It's weird that Roger "went outside the marriage" for an album that highlighted the beginning of the end of The Who, that pointed to the flaccid Kenny Jones years, that foreshadowed the years in which Pete Townshend toiled while encased in plexiglass. Listen to a couple of songs…after the jump, before we continue this investigation.