Do you ever listen to Classic Rock radio and find yourself predicting the next artist or song? Here's your chance to turn that habit into a charitable contribution, a barrel of rock-nerd fun, and more!
By now our founding and regularly participating Townspeople should have been reached with an invitation to our upcoming Sausages for Sammy fundraiser event to benefit Rock Town Hall's producer and blog designer—and my trusted partner in crime—Townsman sammymaudlin and his family. Many of you have followed posts on our friend's condition and already contributed to his remarkable road to recovery.
I look forward to seeing a number of you at our event and especially thank those of you from all corners of the Hall who have donated despite not being able to down sausages with us. If you would like to learn more about the Sausages for Sammy event, hit me offlist: mrmoderator [at] rocktownhall [dot] com.
Online predictions for tonight's Classic Rock Psychic Rock Event are now closed. Thank you for your healthy contributions to our friend's health!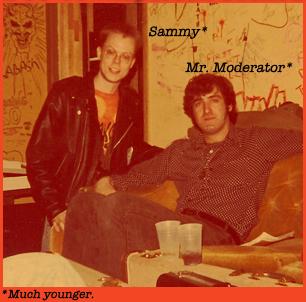 The Sausages for Sammy Classic Rock Block Psychic Event sprung partially formed from the fertile mind of Townsman hrrundivbakshi. He recently realized that he is gifted with the ability to predict the future of Classic Rock radio programming. He consulted The Orockle on possible uses for this gift and was advised to use this gift for the purposes of Good, not Evil or, worse, Apathy. "What more good can I do," HVB asked himself, "than to help a fellow Townsperson and his family?" And so this psychic, 50-50 fundraiser was hatched. Here's how it's played:
Contest date: Saturday, June 4th (late-evening time to be announced)
Objective: Predict a specific Artist and Song that will be played during a predetermined 20-minute Rock Block on a Classic Rock station to be announced. The specific station will be announced shortly before the Rock Block airs. The station will have a live stream, so you can follow along in real-time with those of us in attendance at the Sausage for Sammy event.
To win: Winners will have, at minimum, guessed an artist played during the Rock Block. Ties will be broken among contestants who have successfully guessed the same artist by the specific song predicted. Successfully predicting an artist and a specific song ensures a spot in the Winner's Circle.
Prize: Winner takes/splits (if multiple winners) 50% of entire fundraising pot.
Entry fee: $1 per predicted Artist/Song that may be played during the selected 20-minute Rock Block (multiple entries are encouraged at $1/pop, to increase odds of winning.

"Box" an artist: For $15 you can "box" an artist, that is, submit the artist and their entire catalog, to ensure landing on the right side of any tie. For Classic Rock artists with dozens of program-worthy songs, like the Beatles, the Stones, or Led Zep, this is a fantastic deal. For a second-line Classic Rock artist like Bad Company, you could place 5 individual bets predictions, but why risk forgetting to enter one of the band's backline classics, like "Good Lovin' Gone Bad." For $15 you've got that song covered and others that may make you wish you had a V8. I know, it's easy to forget how deep some Classic Rock artists' catalogs ran!
Thanks, and thanks to hrrundivbakshi, or Master of Fun and Games, for sparking this idea!