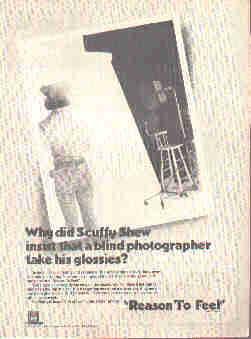 Simply beautiful
The other day, I scored a significant haul of dusty old 45s at the local Value Village — the stuff of which will form the core of a couple of upcoming Thrifty Music editions. One single in particular, however, proved itself so noteworthy that I felt compelled to feature it separately.
The song in question is called "Moody", by one Scuffy Shew, from 1973. I urge you to give it a listen. As you do, please think of all the tortured, self-important, pretentious artistes whose causes have been championed 'round these parts. I'm especially looking at all of you who endure every cheek-flapping fart Lou Reed ever committed to vinyl, or those of you who revel in every hollow, clanging note to be found on sides one and two of Television's first album. Fans of Be Bop Deluxe, Sparks, and Neu! — I charge you in particular with the duty of opening your ears to some real music for a change.
Scuffy Shew, "Moody"

What we've got here in Shew's "Moody" is something different. Something simple, vital, beautiful, and ultimately, genuinely important, like a first kiss or the smell of the ocean on hard-earned vacation. I don't know where to begin explaining why it's as Great as I think it is; all I know is that if you can't wrap your head around its simple charm, you need your ears — not to mention your brain — thoroughly irrigated.
Come on, guys, be real about this rock and roll thing for once, willya? Sheesh. I know E. Pluribus will understand what I'm getting at here.
I look forward to your responses,
HVB