A few of you know my thoughts regarding the mythology that has carried The Rolling Stones' Exile on Main Street from its rightful place as rock's greatest ep to an acknowledged classic double lp. To summarize, it's my belief that the album cover imagery fully brought to life the possibilities of the rock band as a band of brothers, as exiled revolutionaries. Jimi Hendrix and some of his late-60s compadres initiated this myth, but the hippies couldn't shake their dandyism. Delve further inside the freak-show front cover shots and glimpes of The Stones in the act of creation—creation from the rubble of personal destruction, no less—capture the imagination. Any shot of The Stones in action that I've seen from these sessions stirs the rock-making mythology in ways shots of the cerebral, tripping Beatles at work never could. The Beatles didn't create like this, maaaannn!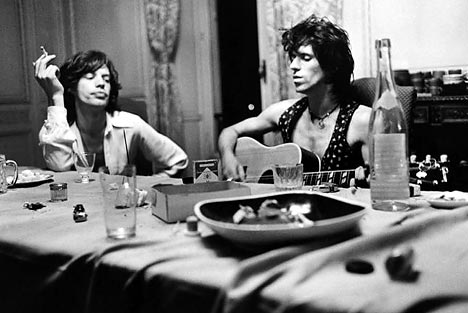 "Paul and John got nothin' on these guys!"
On the record sleeve for sides 3 and 4, there's an iconic shot of Keef and Mick at the microphone, casually belting out backing vocals while sharing swigs of hootch. As soon as the first young rockers saw that image and got into the studio to lay down their own backing vocals with bandmates, they had already constructed a life-size cardboard cutout of Keef and Mick in their minds. They would sing arm-in-arm with the Glimmer Twins, taking their own sloppy pulls from the bottle of Jack! These first young rockers in the wake of Exile on Main Street's wild cover imagery would go through this ritual as would members many bands that followed. I know I've spent many a wasted take in the studio with my arm around this cardboard cutout, and I bet some of you have too.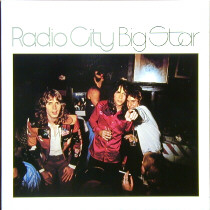 "Roll tape!"
Speaking of these first bands that rallied 'round the cardboard cutout of Keef and Mick at the mic, bottle of Jack in hand, I'd venture to guess that a large part of the appeal of Big Star's Radio City ties into the Exile myth! Radio City is one of the first albums to have been made with the Exile cutout shot, and for some, perhaps the commercial failure of the band's second album is enriched because of the downbeat backstory of Chris Bell's departure and the devil-may-care partying that was captured in 1974's velvety red and brown tones. Any band of dreamers, some of you may think, can craft a perfectly realized shot at the big time (suckers!), but only the strong survive when one brother's down and the surviving members are carrying on with no victory in sight and nothing left to lose. Or something like that, right? It's not really about the music, is it?