Let's put an end to the nonsense over whether the last half-decent "Mick Taylor-era" Stones album, Goats Head Soup, or the first solid "return to form" Stones album, Some Girls, is better. The former couldn't be more boiled down from the picked over bones of the Exile on Main Street era; the latter, upon its release, was of the here and now. Sure there was a good deal of 2-chord filler, but it reeked of late nights at Studio 54 and Truman Capote's locomotive breath. The band sounded refreshed and committed to its mostly humble tunes. To boot, the album included the band's best-crafted, Brazillian model pick-up single of the '70s, one that actually managed to sound worth jumping into the sack over. We'll get into the particulars of Some Girls in a bit. Let's start with an initial shot at Goats Head Soup.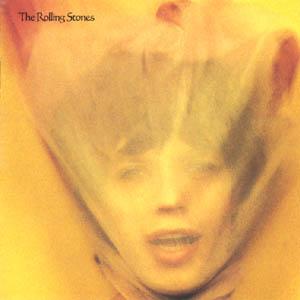 Jagger's best solo album.
I'm not going to waste time. What's Goats Head Soup's catchiest song, the horribly named "Doo Doo Doo Doo Doo (Heartbreaker)", but the 6th or 7th dip into the well that initially flowed from Let It Bleed's "Monkey Man" and "Live With Me". Hell, it's even got the brief Carlos Santana guitar interlude first used in "Can't You Hear Me Knocking"! This song, possibly the best of the best-known songs from Goats Head Soup, is representative of the album's self-satisfied, burned-out, proto-Classic Rock approach. This song was made for parking your Camaro near Pennypack Park to meet up with some buds for a kegger in the woods. This song is the rock equivalent of going home with the "other" girl you met in the bar, not the one you wanted to get to know better. Cheap! Wake up with her in the morning and all you're left with is "Can You Hear the Music".


Supporters of Goats Head Soup will point to some of the album's deep tracks, such as the tender "Winter". Spare me Jagger's lament of a "cold, cold winter"; spare me his wish to be "out in California"! Like the album's big hit, "Angie", this is yet another come-on to some 19-year-old Brazilian model disguised as a song, despite the nice little string-and-guitar interlude. This isn't like Jesse Winchester's song called "Snow", if I've got the title right, or many other fine songs about being out in the cold, emotionally as well as physically. Speaking of "Angie", this entire album is marked down 10 points just for Jagger's repeated use of the hitch in the way he sings the woman's name. There's good reason Spongebob and Patrick were warned not to play with the hooks!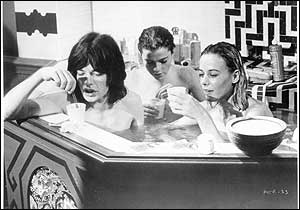 What Mickey said.
Let's look a little more closely at this pick-up song issue… Christ, didn't simply being a Rolling Stone get those guys enough tail? They had to construct entire albums around this objective? It's way too clear, if you listen closely to the lyrics on Goats Head Soup, that Jagger needed to get laid constantly! Needed to get laid, I said, not wanted. I begrudge no person for wanting to get laid constantly, and god bless anyone who can achieve this. However, when I want to listen to a rock 'n roll album, I want to listen to musicians working to come together over the groove itself. On Goats Head Soup the band recorded with one eye on the ladies. "Women weaken legs!" said Rocky's trainer, Mickey, right?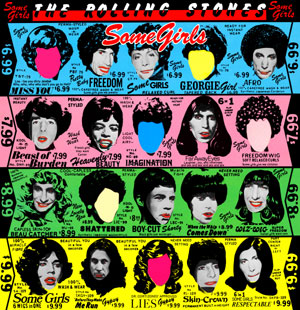 More than enough jam.
On Some Girls, Mick, Keef, and the boys allow themselves to spend some quality Man Time together. Sure, the tail was all around them, but they sound content hammering away on their 2-chord vamps. What's "When the Whip Comes Down" but a boys' night out throwaway, but it's got the spirit hoped for when the boys get together for that cherished night to relive past imagined glories. They're getting off on each other, leaving me with no pseudo-poetic mating moves to bog down my listening experience. Tell me about your conquests tomorrow, lads. Let's rock!
Some Girls contains 3 killer songs by the best Stones standards–"Miss You", "Some Girls", and "Beast of Burden". Then there's one of Jagger's finest tongue-in-cheek "Americana porch" routines, "Far Away Eyes", and Keef's best spotlight number since "Happy", "Before They Make Me Run". Come to think of it, does Keef even have much of a presence on Goats Head Soup? Call it Jagger's finest solo album, if you'd like, but I don't get a strong Keef vibe from the album, which in turn means I don't get enough of a Stones vibe from the album. Is this an album on which he was too out of it to contribute much? Is this The Stones' In Through the Out Door? Keef was back in business for Some Girls, there's that healthy battle between the Glimmer Twins evident in the grooves.
I should note, I would have provided sound clips of these great Stones songs from Some Girls, but I bet you know them already, and you know deep down – when you put aside your long-held feelings of not fitting in with the cool kids in high school – just how good these cuts are. Most of you probably haven't listened to Goats Head Soup since the last time you tried to imagine what it would have been like to have been headed for that kegger in the woods. It's for these reasons I've only provided clips from Goats Head Soup, to refresh your memory.
Finally, let's look at the cover art. The cover art for Some Girls is outstanding. If you don't agree with that, you mustn't have eyes. It's even a die-cut cover, which makes it cooler. Any time I look at the cover of Goats Head Soup, on the other hand, I can only ask myself, What is the meaning of Mick Jagger's face in a stretched-out, lambskin condom?