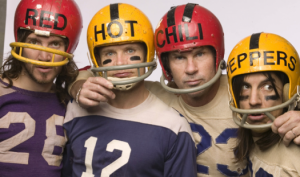 A few music-related Super Bowl XLVIII prop bets to consider. I'm not an odds-maker, so I'll leave it to you to help set the odds before making your picks…after the jump!
Over/under on Beats Music ads:
Beats Music ad capitalizing on Richard Sherman's post-NFC Championship Game rant:
Billy Joel and Jay-Z perform a version of "New York State of Mind" during the pregame ceremonies:
Jon Bon Jovi throws a bone in New Jersey's direction, to remind everyone where the game is actually being played:
Over/under on number of Who songs used in ads:
Number of times Kurt Warner's wife will be shown in the crowd:
Red Hot Chili Peppers reinstate John Frusciante on lead guitar minutes before kickoff:
The broadcaster team will refer to BigSteve's most-anticipated musical event of the coming week, the 50th anniversary of the Beatles' first performance on the Ed Sullivan Show.
Broadcasters will make a "Born to Run" reference following the first big run from scrimmage by Marshawn Lynch:
Bruno Mars will begin his set by appearing as Fay Wray at the top of the Empire State Building, in the arms of a CGI King Kong:
Bruno Mars will wear Mick Jagger's football pants and knee pads:
Bruno Mars will be joined on stage by Michael Jackson's fake biological kids:
Bruno Mars will whip out a guitar and play a Prince-worthy solo:
Bruno Mars' inevitable jam session with the RHCP will make someone in your Super Bowl Party exclaim, "Man, that band would be really good if they'd ditch Kiedis and hire Mars!"
A wardrobe malfunction alert will be at Code Red as the RHCP take the stage wearing nothing but football helmets and socks:
Anthony Kiedis will wear Mick Jagger's football pants and knee pads:
Flea will lean into Kiedis' mic to shout "Omaha!" before a guitar solo:
Anthony Kiedis will appear shirtless, exposing his aging, hairless, flabby chest:
Anthony Kiedis will remove his shirt mid-set, exposing his aging, hairless, flabby chest:
Someone at your Super Bowl Party will remark that drummer Chad Smith looks exactly like Will Ferrell:
Will Ferrell, as Ron Burgundy, will appear with the RHCP as the band's second drummer:
Anthony Kiedis will holster a guitar:
Mick Jagger will show up to jam wearing football pants and knee pads:
Jimmy Page and Slash will join RHCP for the "Stairway to Heaven" solo:
Flea and Anthony Kiedis will simulate passing a joint, in honor of Washington and Colorado's pot decriminalization:
Flea and Anthony Kiedis will simulate a homosexual act, causing parts of the country to spin into torrents of outrage while causing Rock Town Hall types to sniff, "That's nothing Keef and Woodie didn't do on SNL 30-some years ago, not to mention Bowie simulating fellatio on Mick Ronson during the Spiders tour":
A star-studded, hip-hop aided version of "Born to Run" will be played during the closing montage of highlights from the just-completed game:
Please feel free to set odds and make your picks on any of these prop bets, and add other prop bets that I have overlooked.