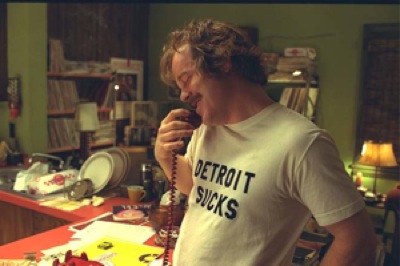 In honor of the great (and now stupidly frustratingly dead) Philip Seymour Hoffman, whose Instant Offense acting chops managed to raise even Almost Famous, one of the most grating, ass-kissing movies I've ever had the displeasure of sitting through, let us celebrate music critics, as portrayed on film.
Both real and fictional music critics appearing as characters in movies are eligible. Real critics playing themselves are eligible, but they must appear in a dramatic film, not as talking heads in an actual rock documentary. Critics appearing as themselves as talking heads in mockumentaries, however, are eligible for inclusion.
Since this is likely to be one of our more exclusive Last Man Standing competitions, multiple portrayals of the same critic are eligible, provided you specify a new film.
Got that? So, Lester Bangs, as portrayed by Philip Seymour Hoffman in Almost Famous is OFF the board, but I can think of at least 3 other critics who appear as movie characters. I'm sure you'll think of more!
[NOTE: I dug up the 2009 interview Hoffman did with Terry Gross on Fresh Air that's stuck with me through the years. Click here to listen. At the 20:30 mark, Hoffman starts talking about sports then addiction. I wanted to high five that guy at that point and still wish I could.]