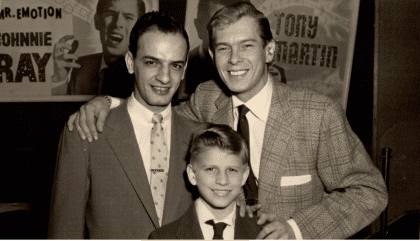 My Dad died last night. He was a month shy of 90, lived a good life, his passing was neither unexpected nor drawn-out nor painful. I'm not writing this to look for condolences or sympathy but because one of Dad's greatest gifts to me was a love of music and where better to acknowledge that and celebrate it than Rock Town Hall.
Not that Dad was much of a rock & roll fan. He did have broad tastes though and music was always playing at our house. Roger Miller to Tom Jobim to Chet Baker to Frank Sinatra, I heard a lot and loved it all and still do.
For a first-generation Italian-American in South Philly, Sinatra was of course number one for my father (and my mother). That was passed on to me. I like to say that I've loved Sinatra for 66 years even though I'm only 65 years old since I know I heard plenty of Frank in utero.
Dad saw so much live music back in the day and had so many stories to tell me. Chatting with Ella Fitzgerald before a show and buying her a drink at the bar of the club. Being the only person at another gig with Rosemary Clooney, telling her she didn't have to do the show just for him (although she did). Hanging with Bobby Darin at a bar in Philly when Keely Smith called looking for him (and Darin telling the bartender – my uncle – to tell her he wasn't there and if she ever called, he was never there, although his language was more colorful). "Managing" Bobby Rydell early on in his career (which mostly consisted of him collecting money at the Jersey shore while Bobby performed on the beach and taking him up to New York to audition for Red Skeleton).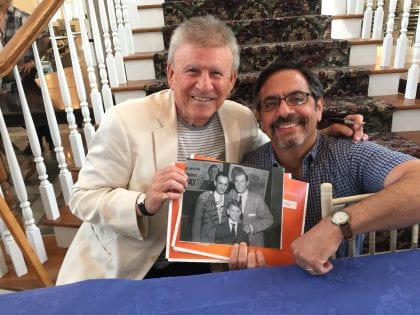 The list of people he saw multiple times in little jazz clubs in Philly and NYC is staggering – Miles, Monk, Chet Baker, Ahmad Jamal, Anita O'Day, Astrud Gilberto, and countless others. And Dad wasn't shy and the times were such that it was okay to talk to all these people, buy them a drink. One story he loved to tell was about chatting with Chet Baker before a show and asking him to play the song "Trickleydidlier" which was Dad's favorite. Chet had no idea what the song was and apologized to Dad, saying "I don't know these songs; they put the charts in front of me in the studio and I play."
And, of course, seeing Sinatra at a restaurant after one of Frank's shows and striking up a conversation with him.
Dad was a baker, a cake decorator. (Back before Cake Boss and any of that stuff, one of Dad's creations was featured in the Philadelphia Bulletin in 1964, when he iced a cake and made it look like a Beatles mop-top.) He had one job working at a bakery in Wayne. He went to a lot of shows at the Main Point, seeing James Taylor, Janis Ian, even Bruce, and others long before anyone knew who they were.
Thanks, Dad; this is for you.