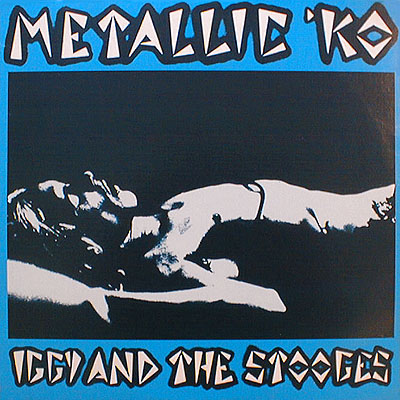 This thread won't apply to everybody. For younger record nerds who have come of age in an era when downloads of just about any obscure album can be found for free on the web if you search long enough, there's little risk in accumulating all the mp3s your heart desires. The anxieties that older rock nerds have experienced may not ring true. It must be nice.
Some of you have already walked down the endless path of the hardcore record collector. There's no stopping you now, and if that's the case, more power to you! A part of me wishes I hadn't been scared off this path, but I was, by two once hard-to-find purchases I made when I was 18: a bootleg of the Sex Pistols' last show at San Francisco's Winterland and Iggy Pop and The Stooges' semi-bootleg document of that band's last show, Metallic K.O. As I said, today you could probably download these albums in the comfort of your home in less than 20 minutes. In 1981, a teenage boy without much cash to spare had to make a great investment of time and money to locate these albums and bring them home, with no opportunity to sample selected tracks for free on some blog. What if this bootleg I'm tempted to spend $20 on sucks? What if I hear more of the dude who illegally taped the show hooting and hollering for his favorite songs than I do the band?
Worse yet: What if the bootleg was a dreaded, DOA board mix, with little more than vocals and kick drum?


Along with those factors, it was stressful as a teenage boy to go to the semi-hidden bootleg bin in the back of some stores. It was a bit like trying to casually browse the porn mags at a bookstore or newstand. Some record nerds had more stomach for that section than I did – I'm sure I was among the wussiest of bootleg browsers – but let's face it: it was against the law for record stores to sell those bootlegs. What if the store was raided!
I still go out on a limb every 5 years to take a chance on a rare, obscuro piece of vinyl, but this practice has never become a part of my usual obsessive pursuit of previously undiscovered music. Thanks to spending $40 circa-1981 dollars on a teenage boy's budget on the Sex Pistols boot and Metallic K.O., I was comfortable, a few years later, resisting purchasing any bootleg of The Beach Boys' aborted Smile album. A pre-blogging way to sample what I might have been getting myself into came courtesy of a bargain-bin 1983 purchase of the band's Smiley Smile. If Smile was such a masterpiece-in-progress, I thought to myself, the compromised leftovers album should be a little better than this oddity!
Anyhow, maybe some of this rings true for you, maybe not. What I'm curious to hear about is whether you ever went out on a limb for a hard-to-find, expensive bootleg or rarity only to spin it and realize it was time you nip this growing obsession in the bud and be content spending the rest of your life in pursuit of thousands of slightly easier-to-acquire records. What was your specific sanity-saving end-of-the-line purchase?