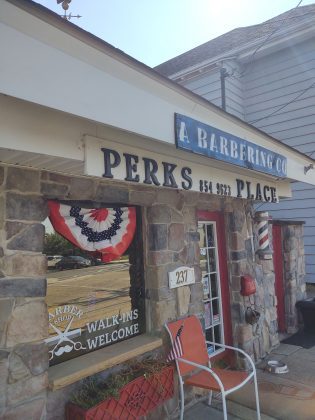 Ah, how great to see cdm's reference to Billy Harner and to see Billy aka The Human Perkulator aka Perk appear on a recent thread.
I love Billy Harner and have for 50+ years now. Such fond memories of hearing his "hits" on WFIL-AM and WIBG-AM – the two top 40 stations in Philly for all of you non-Philadelphia Townsfolk.
"Hits" is in quotes because he never charted nationally but he was a hit locally and for a long long time. I never was lucky enough to see him live nor to get my haircut at his shop. Once, probably 25 years ago, I did make a trip from Connecticut down to Upper Darby to see him play in some nothing little restaurant or bar or something only to find that the gig had been canceled.
Anyway, his catalog isn't very big. A lot of singles, many of which are highly valued among Northern Soul fans, one LP proper, and a couple of CDs most of which are grey area "reissues" of his LP and singles and a 2000 CD with lots of remakes. I have the latter, inscribed and signed, a copy of the LP, and about 20 singles, mostly purchased from old Goldmine ads and from Val Shively's R&B Records. Memories…
Billy had three local "hits". Please you should listen to them all.
His biggest was "Sally Sayin' Somethin'"
My personal favorite has always been "Homicide Dresser."
The other was the title track from his LP She's Almost You.
There are a lot more for you to find on YouTube if you are inclined, including live versions of the three above. They are from 40 years after the fact but I enjoyed them enough to wish that gig hadn't been canceled.
I think Billy is in bad health in recent years and his Website no longer exists. Anyone who knows more details, please let me know.
Oh, and one more song, this especially for Mr. Mod, Perk doing "Magic Carpet Ride."