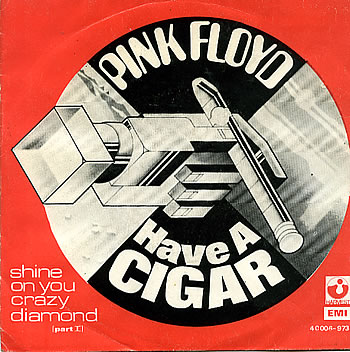 Just yesterday I was ranting about the Pompous Rock March of "Eminence Front," and I made reference to another song I find especially hectoring and unpleasing, Pink Floyd's "Have a Cigar." That song, like a lot of Pink Floyd song, is the aural equivalent, for me, of the rare times I feel nauseous. "What enjoyment do people get out of feeling nauseous?" I ask myself whenever it comes on the radio.
Driving home from a great dinner out with my wife and friends last night the radio punished me with a double-shot of Hectoring Rock Marches: Tom Petty's interminable"You Got Lucky" followed by, you guessed it, "Have a Cigar"! I, in turn, punished my wife by complaining through the entire Tom Petty song and the intro of the Floyd song, at which point she called bullshit on me.
"Can you ever shut up through a song?" she snapped at me. "If you like it, I have to hear you point out all the little parts you think are cool, making it impossible for me to hear the song itself. If you don't like it, I get this." She drove it home with this crushing aside: "For 22 years…"
I told her I was turning over a new page immediately, and quickly thought to myself how fortunate I am to have you as an outlet.
As the New Me quietly let "Have a Cigar" play—because to change the station on a song that my wife likes less than I do (and doesn't even get joy in criticizing) would still be tantamount to yet another editorial from me—I started wondering what the point was of being in Pink Floyd after Syd Barrett left and they developed their classic sound. Was there any joy in membership in Pink Floyd? Do they ever sound like they're having a laugh while playing a song? Do you imagine them sharing inside jokes over pizza during recording breaks? Did they ever high-five each other over a well-played part or performance? Did anyone but Roger Waters even care when the pig took flight?
One of the things I love most about music and about playing in a band is the camaraderie, the communal vibe, the knowing glances. I will grant there are some cool things in even the most nauseating Pink Floyd songs, but they rarely if ever give off the sense that they're brothers in arms, or whatever corny term might apply. It's as if they are drab office or factory workers being recorded without their knowledge or regard.
In some ways it's admirable that they were so dedicated to their craft, so ascetic that they did not allow themselves to whistle while they worked. In many ways, however, I will never relate.