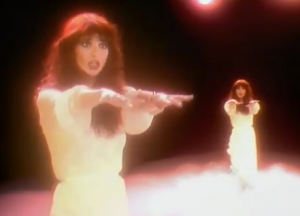 In a recent New Yorker music review of Dangermau5, Sasha Frere-Jones references a music production style that I wasn't aware of:
The core and tempo of the music are provided by the kick drums and snare drums of disco, often without the high hat. Some producers call it the "Kate Bush" beat: kate (kick) bush (snare), kate (kick) bush (snare).
A drum style named after that English chanteuse? Are there other drum beats or production effects out there that are named after other musicians? Is there an Ig (floor tom) gy (floor tom) Pop (crash)? What would a "Paul Weller" sound like?
I'm just curious and hope that those of you in the know can help us out.