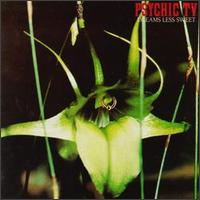 Some of you may remember me telling this story before, but I've never had the chance to tell it as I plan to do now. You may want to click on the following song as you begin reading this tale. It's a pretty number that sets the initial tone of Psychic TV's 1983 release, Dreams Less Sweet. Go ahead, check out "The Orchids". It's really pretty.

OK. Now some of you may recall that I have a taste for Throbbing Gristle. Talk about your killer album covers and album titles! The day freshman year in college I saw their "Greatest Hits" collection subtitled Entertainment Through Pain I had to take a leap. I dug the mix of purposefully annoying, creepy, subterranean garage music and hypnotic synth workouts. I dug the evil humor. Throbbing Gristle would be one of those bands the young me wear as a badge of hard-earned honor when trying to make my way into tougher, more advanced rock circles.
The whole freaky side of the members of Throbbing Gristle and leader Genesis P-Orridge's next venture, Psychic TV, never appealed to me – the tattoos, the pierced genetalia, the hints at Nazi imagery, the sex change operations. I was never a fan of KISS growing up, so I wasn't about to give in to shock-rock theatricality in my college years. It was the true evil within the grooves that interested me. It still does regarding my Throbbing Gristle albums, but I had to rid my life of Psychic TV's Dreams Less Sweet.
By now I hope you've heard side 1's track 2, "The Orchids". Lovely, wasn't it, if creepy? That day I first drew the shades and laid on my bed to hear this Psychic TV album for all it was worth I also drew from my fresh stash. As Dan Rather might have said, I was "loaded for bear."
I was getting all the requisite dreamy creepiness out of the album I could have hoped to get, and then came a song on side 2 that started with an ominous whooshing sound. At this point I encourage you to click on "In the Nursery". You're probably not on your bed in a dark room, but you may get the idea.
I've got a high tolerance for psychologically scary things. Gore's not my bag, but psychological terror is usually a blast. I was probably 4 minutes into the song when I did the unthinkable: I freaked out and I lost it! I finished out the song, listened to it again to make sure I didn't overreact, and then promptly filed the album away, under T.
Over the next few months I'd try to enjoy what I could from the album, but inevitably I'd peek "In the Nursery". Finally, I had to sell the album. I wasn't willing or able to cross this line.