While doing my annual re-evaluation of The Small Faces' Odgen's Nut Gone Flake album this morning, I couldn't help thinking about how much mileage and forgiveness the album has probably garnered among rock fans thanks to the cool, die-cut cover sleeve in which it originally appeared. I'd show you a picture of it, if you don't know what I'm talking about, but any 2-dimensional, digital image I can find doesn't do it justice: the sleeve was die-cut to a circle, perfectly containing the album itself with no extra space around it. Very cool, and the motivation for saving up the spare pennies from my bookstore clerk years to buy an expensive used copy in the mid-80s!
Surely, I ran home that night, dusted off what seeds and stems I could gather, scraped out some resin from my bong, and braced myself for what would be one of those psych-rock fanboy moments a young music geek chases until he's reached the end of the rainbow and has paid good money for one too many Idle Race albums, eventually hitting rock bottom with a desparate grab at the collected works of SRC.

Following a half dozen spins of Ogden's Nut Gone Flake, I should have known I'd hit the beginning of the end of the rainbow. I tried to stick with it for a couple of years, but damn if the spoken-word bits and Steve Marriott trading in his set of massive balls to sing as if he were in the London cast of Oliver! didn't sound like The Monkees featuring Davey Jones in a goofy, music hall romp that would showcase/capitalize on his cute British cred.
A few years later I sold the thing, extremely cool die-cut sleeve and all. A few years thereafter I bought another copy! By then I was convinced that the rest of The Small Faces' catalog was, indeed, ACES! That album cover was still super cool and worth owning. The grooves would grow on me the second time around!
Sadly, the album was just as lame, and I sold it again. I've since reacquired more than enough of the tracks on the superb collection, Darlings of Wapping Wharf Launderette. I highly recommend this 2-CD collection to anyone in need of a starter set by this band (you can order it through the Amazon portal on our site and help keep Rock Town Hall strong and out of debt). I still skip over those songs unless I really want to try being fair and continually open minded.
My point is, thank heavens for that cool, die-cut album cover! I bought that album twice, so far, solely because of the album cover, and if I ever run across an affordable vinyl copy in a used bin, there's a good chance I'll buy it for a third time.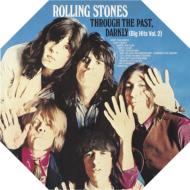 This led to me thinking about other albums that have probably sold consistently over the years based on their sleeve design more than the music within. Albums such as the octagonally sleeved Stones' collection, Through the Past, Darkly; the 3-D album every rock nerd wishes was actually good, Their Satanic Majesties Request; and maybe even Led Zeppelin III, an album that I've always rated, perhaps, higher than need be.
For what other cool die-cut album covers should we thank (or curse, as might be the case) heaven?
So I'm getting the sense that the Good General Slocum and Tom Means are the only other people around here who've been excited to buy an album based on its cool, die-cut cover – or is someone holding back? No one's too cool for school in the Halls of Rock. If you were, you'd be cruising third-generation links in search of snarky one-liners that you could have developed yourself and shared with a friend while at lunch. Who's holding out on us, or is the record industry right in deciding that consumers don't care about fancypants packaging? My question is, who's going to download the overblown crap of today if we can't be seduced by things like cool, die-cut sleeves?